< News
| Wednesday, October 4, 2023
Key moments from the 2023 BRN Welcome Social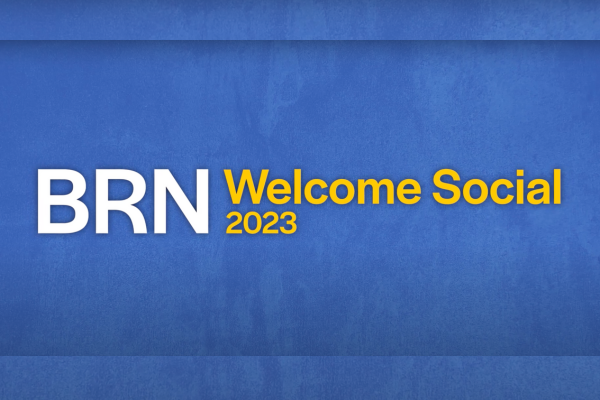 On Sept. 21, the Black Research Network (BRN) rang in the new academic year at its second annual BRN Welcome Social.
Hosted at U of T Scarborough's Catalyst Centre, the event brought together the BRN community to reconnect and learn about what the BRN – an Institutional Strategic Initiative (ISI) at the University of Toronto – has planned for its third year.
This year's event featured presentations from Rhonda McEwen, the BRN's interim director and president and vice-chancellor of Victoria University, who shared a timeline of the BRN's accomplishments and goals looking forward – including its search for a new director.
Maydianne Andrade, a professor of evolutionary biology at the University of Toronto Scarborough and member of the BRN steering committee, spoke about the BRN's pivotal role in amplifying the visibility of Black scholars at the university.
"As we continue to grow as a faculty, it's important to realize we have consistent things we are working for. The Black Research Network is a representative and outcome of that," Andrade said.
From upcoming events and opportunities to celebrating new U of T community members, here is what you missed at the BRN Welcome Social.
The return of BRN programming
Launched in October 2021 to promote and sustain a cross-divisional, interdisciplinary network of Black scholars, the BRN continues to build upon its original programming to engage with its tri-campus network.
Held throughout the fall, the second season of the BRN Speaker Series will launch on October 20. The series invites scholars from the university and beyond to engage in meaningful conversations and inquiries about their recent work and careers. Additionally, the BRN Research Workshop Series, developed to equip researchers with relevant information and tools to navigate their academic careers, will also return this fall.
Fuelling the future of Black research excellence 
Also returning are BRN funding opportunities. This includes the third cycle of the IGNITE grant, which awards $5,000 to $10,000 for research dissemination and professional development to Black faculty, librarians, post-doctoral scholars, clinical scientists and medical research fellows/residents at the University of Toronto. This year's grant will launch on October 18.
Developed in collaboration with the University of Toronto's Connaught Fund, the Connaught Major Research Challenge for Black Researchers awards up to $250,000 to support Black-led teams addressing major research issues at a national or international scale. The inaugural grant was awarded to Notisha Massaquoi, whose project is a cornerstone of the BRN's research theme, "Societal Impact in Black Health Outcomes." Applications for the award have opened for the 2023/24 academic year.
We networked!
In addition to insights on future endeavours, the BRN Welcome Social provided an opportunity to spotlight new faculty and librarians, including Tosen Nwadei, an assistant professor in the Department of Management at U of T Scarborough, and Aisha Aminu, a librarian at the Engineering & Computer Science Library.
BRN Faculty Fellows Mireille Norris, an assistant professor at the Temerty Faculty of Medicine and IGNITEgrant recipient, and Brice Batomen, an assistant professor at the Dalla Lana School of Public Health who also received support from the Connaught grant, presented their research topics.
Along with Alexander Barnett, the three are inaugural BRN Faculty Fellows – a program established toprovide research engagement support for tenure and teaching-stream faculty at the University of Toronto.
"I know that this is just the beginning of a long journey of promoting Black research excellence at the University of Toronto," Batomen said of the fellowship. "I aim to serve as a mentor for others, to inspire and empower the next generation of academics."
Take a look at some special moments.