< News
| Wednesday, July 5, 2023
Announcing the inaugural BRN Faculty Fellows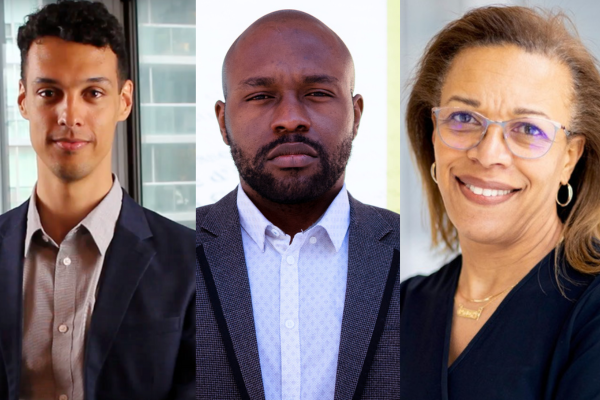 the inaugural BRN Faculty Fellows (from left to right: Alexander Barnett, Brice Batomen and Mireille Norris)
The Black Research Network is pleased to announce the inaugural cohort of the BRN Faculty Fellows.
The BRN Faculty Fellow program was established provide research engagement support for tenure and teaching-stream faculty at the University of Toronto. The award – of $10K for the year-long program – will help BRN Faculty Fellows facilitate research in any academic discipline or multidisciplinary area and mobilize knowledge among the BRN network at U of T and on an international stage.
From studies in psychology and public health to equity in health care, the three recipients of the program are making significant contributions in their fields.  
Alexander Barnett
Alexander Barnett is an assistant professor in the department of psychology. His research spans the disciplines of neuroscience, psychology and medicine to provide a deeper understanding about how the brain works to retain memory.
Barnett also works to address inequities in research opportunities for students. He has designed a research training program for undergraduate students to gain basic knowledge and skills required for roles as an undergraduate research assistant.
Brice Batomen
Brice Batomen is an assistant professor at the Dalla Lana School of Public Health. His research interests include sports injuries, trauma care and injury prevention, specifically in relation to street safety.
In addition to research, he currently leads a program for Black postdoctoral students at DLSPH, which provides mentorship through monthly meetings. Batomen is a recipient of the inaugural Connaught Major Research Challenge for Black Researchers.
Mireille Norris
Mireille Norris is an assistant professor at the Temerty Faculty of Medicine and a geriatrician at Sunnybrook Hospital. Her research and work are focused on equity, social justice and overcoming epistemic injustice for Black medical learners.
Norris became the inaugural faculty lead for Black and Indigenous Resident Application and Mentorship Program for the Department of Medicine in 2020. In June 2021, she co-founded the Sunnybrook Program to Access Research Knowledge (SPARK) for Black and Indigenous first-year medical students. As of March 2023, Norris undertook a new role as the Black Health Theme Lead at the Temerty Faculty of Medicine.
Featured in this Article
Mireille Norris
View Full Profile