< News
| Wednesday, September 20, 2023
Connaught project set to create a roadmap to eliminate anti-Black racism in health care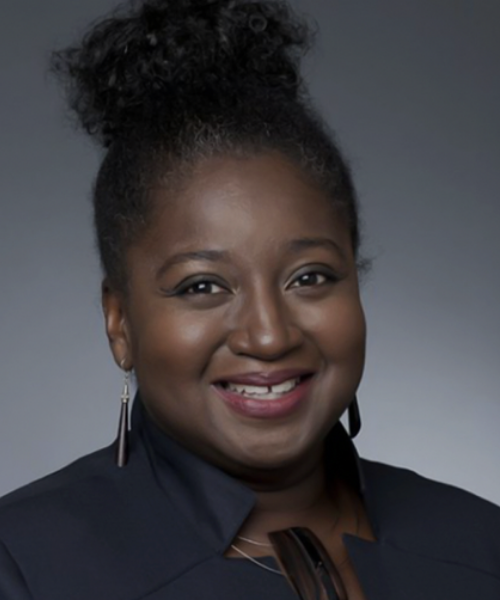 For the past three decades, Notisha Massaquoi has advocated for the health of Black communities across Canada. In March, the renowned expert in health equity was awarded $250,000 as the inaugural recipient the Connaught Major Research Challenge for Black Researchers to advance this work.
The project will utilize the expertise of a tri-campus team of researchers from across disciplines, and community partners in the Greater Toronto Area (GTA), to provide concrete solutions and roadmaps to eliminating anti-Black racism in health care.
"The project is helping us understand from the Black community what priorities they would like us to address as researchers," says Massaquoi, an assistant professor in the department of health and society at U of T Scarborough.
"We want to look at the health disparities experienced by Black communities based on the impact of anti-Black racism. But we don't want to just name what those disparities are."
Established by the University of Toronto's Connaught Fund and developed in collaboration with the Black Research Network (BRN), the grant was created to strengthen the research capacity of the university's Black researchers.
Massaquoi's project is a cornerstone of the BRN's research theme, "Societal Impact in Black Health Outcomes." The research theme was developed to recognize the root causes of Black health inequities and eliminate challenges that researchers face when conducting such work.
"When we have situations such as COVID-19, where the Black community had the highest rates of COVID, but we haven't given the Black community the highest number of resources to address this issue, then we have a problem," Massaquoi says,
"This Connaught grant is leveling that playing field in terms of creating opportunities for Black researchers to have significant funding so that we can actually make differences in our community."
Developing sustainable working relationships with community health centres that serve Black communities is foundational to the project. It will also set an example for how other institutions can facilitate meaningful research collaborations.
For this project, Massaquoi will partner with multiple GTA-based, Black-led organizations. Partners include the Black Health Alliance, a community-led charity that works to improve the health of Black communities in Canada. The team will also work alongside AIDS service organizations like Africans In Partnership Against AIDS and the Black Coalition for AIDS Prevention.
The project will also provide student researchers in the early stages of their academic careers an opportunity to gain valuable experience working in Black health through a training aspect.
Currently, Massaquoi is meeting with researchers across the tri-campus and leaders in the Black community to further understand the research they are conducting and how they are facilitating best practices in combatting social determinants of health – like societal and economic factors.
One of those researchers is UTSC Associate Professor Caroline Shenaz Hossein, a Tier 2 Canada Research Chair in Africana Development and Feminist Political Economy and member of the BRN. Hossein's research focuses on the development of Rotating Savings and Credit Associations (ROSCAs) in Canada, which increases economic power for Black women.
When it comes to economics as a social determinant of health, Massaquoi explains that living below the poverty line escalates your chance of chronic illness. Meanwhile, being just $5,000 above the poverty line dramatically decreases that possibility.
"Anything that creates economic stability or increases the economic viability of an individual is going to impact and improve their health outcomes," Massaquoi says.
"We are looking at non-traditional health care tools and interventions, how we can develop a stronger understanding of this particular project and how we can work with women to develop tools and increase economic stability and health."
Featured in this Article
Notisha Massaquoi
View Full Profile