< News
| Tuesday, September 20, 2022
Technology that shaped Black life in New York almost 200 years ago 'just the tip of the iceberg,' says U of T historian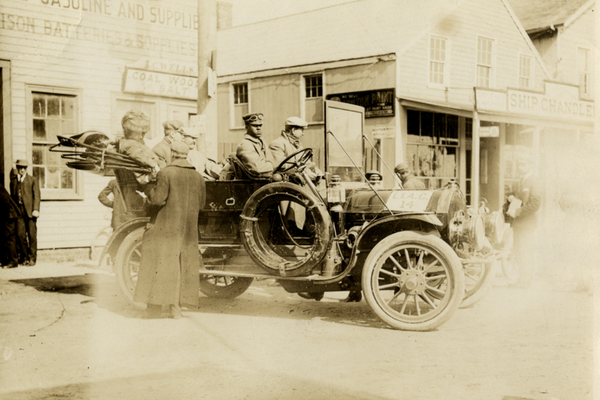 New research from an award-winning historian at the University of Toronto will offer rare insight into the unwritten and intertwined histories of technology and the Black experience in New York City over the last 200 years.
Led by Edward Jones-Imhotep, the project, Black steam, Blacktop and Black light, will explore how the technologies of steam, combustion engines, and electricity played a role in the lives and identities of Black New Yorkers between the nineteenth and early twentieth centuries.
The project stems from the Black Androids Project, a research initiative launched last year which focuses on the histories of racialized automata created between the late eighteenth and mid-twentieth centuries in New York. Driven by the technologies of steam, mechanics and electricity, the development of the androids, which perpetuated racist depictions of Black people, got Jones-Imhotep thinking of how technologies shaped other aspects of Black life.
"Although their surface depicts a kind of Black technological disingenuity, the mechanisms that drove those androids were, elsewhere in New York City, a very rich part of the cultural lives and experiences of Black New Yorkers," says Jones-Imhotep, director and associate professor at the Institute for the History and Philosophy of Science and Technology.
Jones-Imhotep's new research is funded by the Black Research Network's IGNITE grant, established earlier this year to provide small-scale research funding to support Black faculty, librarians and postdoctoral scholars working broadly in any discipline at the university. His larger project received a five-year SSHRC Insight Grant.
With $5,000 from the IGNITE grant, Jones-Imhotep and eight undergraduate research assistants will continue to analyze and mobilize findings from this historical period for a wider audience. Results will be taught in two new courses, an undergraduate course and a graduate-level course called Technological Undergrounds. Both will investigate the histories of race and technology.
The work of Jones-Imhotep's research team focuses on three themes. Black steam will investigate the place of steam technology in Black technological agency in late nineteenth and early twentieth century America. Steam provided a fugitive technology for American slaves, including the American orator and abolitionist, Frederick Douglass, during the Civil War and was a site of Black invention and economic advancement afterwards. Jones-Imhotep's investigations focus on a series of alleged Black 'revenge plots' that targeted steam trains between 1890 and 1915 and presupposed advanced technical knowledge.
Meanwhile, Blacktop explores the life of Black mechanics during the rise of gasoline-powered vehicles in Manhattan between 1880 to 1910. The team is tracing how Black mechanics established their own mechanic shops in reaction to attempts by white drivers to monopolize the city's chauffeuring industry.
"We are looking at a white conspiracy to sabotage the cars of Black chauffeurs in New York around 1912 and 1913. In response to this, Black drivers established their own garage network," Jones-Imhotep explains.
"We're very interested in tracking exactly how those garages ended up forming part of the identities and experiences of Black New Yorkers to this moment."
Using fire insurance maps, classified ads, and the extensive correspondence of the sociologist and activist W.E.B. Du Bois, Black Light traces the cultural geographies of electricity in Harlem between 1905 and 1930. Jones-Imhotep is interested in how the technology of electricity – used for skin-whitening, freckle-removal and for signaling Black respectability – helped draw class lines and worldviews in Harlem during its transformation into a mecca of African-American culture in the early twentieth century.
Jones-Imhotep believes that these histories can travel beyond New York City – leaving potential for more research and collaborations to document them. For now, the team will continue extensive archival work, library research and developing and using customized digital tools to make the project happen.
"By deploying different innovative and imaginative techniques, reading things against the grain, poring over photographs, we can begin to uncover this incredibly rich technological history that exists in New York City," Jones-Imhotep says.
"I believe that New York City is most likely just the tip of the iceberg. This is a technological history that we could be exploring in other cities and throughout the world."
Photo credit: Detroit Public Library Digital Collections
Featured in this Article
Edward Jones-Imhotep
View Full Profile