< News
| Wednesday, February 1, 2023
Science and community: Canadian Black Scientists Network launch second BE-STEMM conference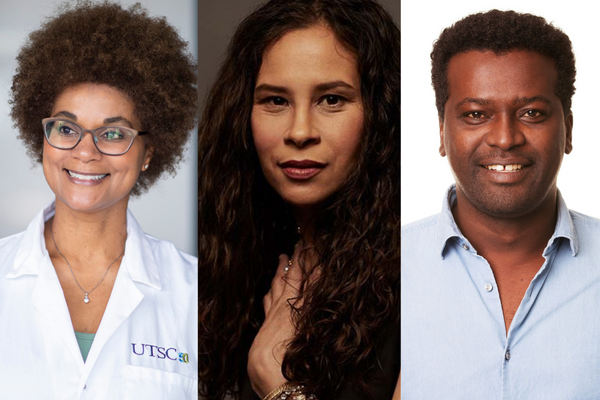 (from left to right) U of T Scarborough's Maydianne Andrade, poet El Jones and Alemu Gonsamo of McMaster University discuss the role of science and community made possible by the Canadian Black Scientists Network's BE-STEMM conference.
Last year, the inaugural conference for Black excellence in science, technology, engineering, mathematics, medicine and health (BE-STEMM), hosted by the Canadian Black Scientists Network (CBSN), came to a close in an unconventional way – with a poem. 
Written by poet and educator El Jones, the poem encapsulated her learnings from the event. Most importantly, it proved that science and art can live side-by-side.  
"What makes the BE-STEMM conference different is that it takes place through a Black vision of how science can take place in community," says Jones, U of T Scarborough's 2020 writer-in-residence and an assistant professor in political and cultural studies at Mount Saint Vincent University.
"That's part of what this conference is doing differently. It's encouraging the Black community to see science as part of our daily life and our heritage that we can claim." 
Jones is one of 16 keynote speakers – along with researchers, industry leaders, politicians and entrepreneurs – participating in the second annual BE-STEMM conference, which starts today. The four-day, virtual conference is a multidisciplinary program that invites STEMM professionals across Canada to share their work, engage in mentorship and networking opportunities.  
The CBSN was co-founded in 2020 by Maydianne Andrade, its inaugural president and steering committee member of the Black Research Network. Since its launch, the network has more than 500 members who share its mission to elevate, celebrate and connect Black researchers in Canada. The CBSN recently partnered U of T Scarborough – where Andrade is an ecologist – to host the conference for a five-year term.  
"The response from young people is the most energizing," Andrade told the Canada Foundation for Innovation in a recent interview.  
"More recently, it is the stories from Black professionals in STEMM who were going to give up on a career in research and innovation because doors were shut to them. But through mentorship and opportunities at our virtual career fair, some of them now have new career paths." 
Merging the arts and STEMM  
Jones will revisit the themes of last year's poem in Black & STEAM: Illustrating histories to Build Futures. The interdisciplinary panel of political scientists, artists and entrepreneurs opens conversation for attendees to reflect on science's role in Black history and life. 
In her talk, Jones will draw on the histories of slavery and anti-Black racism in institutions while challenging western-dominance of science and highlighting indigenous forms of science production.  
"One of the questions I'm drawing on is, does science belong in a lab? Or does it belong to all of us, and how does it belong to all of us as we fight for Black life continuously."  
While the sciences and the arts are traditionally siloed disciplines, the conference offers a unique opportunity to allow scientists, creatives and activists to transform higher-ed institutions through shared experiences to promote Black inclusion.   
Jones says that this ties back to a community-based lens. 
"It's important that we always try to bring our knowledge back into the community and learn from each other – we build that unity and purpose together."

Inspiring the next generation of Black scientists   
Alemu Gonsamo, a Tier 2 Canada Research Chair in Remote Sensing of Terrestrial Ecosystems, conducts research on how forests respond to climate change through ground, airborne and satellite technologies. He will deliver his first keynote speech about his recent research advancements at the BE-STEMM conference.  
Gonsamo is currently building a system called Carbon Flux – which uses inventory and satellite observations from Canada's forests to estimate how much carbon the ecosystem releases to and removes from the atmosphere each year. The observations will date back to 1982, when satellite data first became available.  
"We don't have a good estimate of how much carbon dioxide Canada's forests are removing every year from the atmosphere," says Gonsamo, an assistant professor at the School of Earth, Environment & Society at McMaster University.  
"This resource will be important to decision making, public policy, and to respond to the impacts of climate change." 
In 2021, Gonsamo's lab at McMaster University developed a groundbreaking historic map of Canada's organic carbon stocks. Launched in partnership with the World Wildlife Fund at the 2021 United Nations Climate Change Conference (COP26), the map displays how hundreds of billion of tonnes of carbon is stored in trees, grasslands, soils and peatlands across the country.  
Before heading to McMaster, Gonsamo was a postdoctoral fellow and research associate at University of Toronto. Now a member of the CBSN, he notes that BE-STEMM plays a critical role in connecting multidisciplinary students and leaders – especially in a field that, until recent efforts, has witnessed an invisibility of Black scientists.  
While he did not have a role model while pursuing his education, Gonsamo believes that reflective, cross-disciplinary networking opportunities and representation is vital in encouraging young Black students to pursue a career in STEMM. 
"Having the conference and communicating with youth opens opportunities for them to see themselves in the field. You create possibilities that say anyone in Canada can be a scientist."