< News
| Tuesday, March 14, 2023
New Connaught award will support research aimed at tackling health disparities in Black communities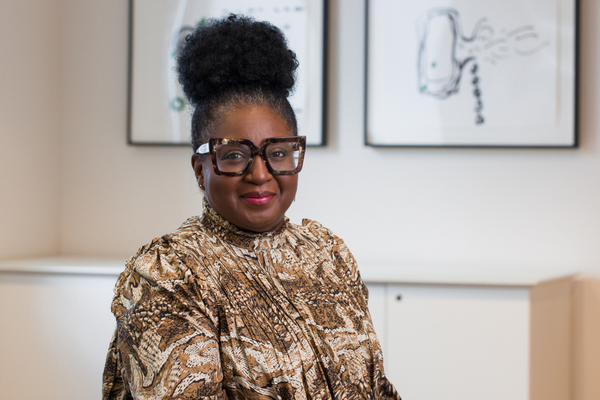 Assistant Professor Notisha Massaquoi is the inaugural recipient of the Connaught Major Research Challenge for Black Researchers.
A new research project supported by U of T's Connaught Fund and developed in collaboration with the U of T Black Research Network (BRN) will bring together experts from all three campuses to address Canada's racial health gap.
The project, which will receive $250,000 through the inaugural Connaught Major Research Challenge for Black Researchers, will support Black health equity research across all three U of T campuses.
"We have researchers across U of T doing excellent work, but much of it is being done in silos," says Notisha Massaquoi, an assistant professor in the department of health and society at U of T Scarborough, and member of the BRN who will lead the project.
"We're taking an interdisciplinary approach by focusing on the social determinants of health, and then coming up with positive solutions to change health outcomes in Black communities."
The project will involve a collaboration among 13 U of T researchers who are looking at the social determinants of health, which are the personal, social, economic and environmental factors that impact individual and population health. Massaquoi says some of the research areas will include looking at access to quality education, the social economy and poverty alleviation, and post-homicide support services, among others.
More importantly, it will also look at creating tangible solutions.
"The hope is that we can start moving away from doing research that tells us over and over again that we have higher rates of illness and move towards finding solutions for these health disparities," says Massaquoi, who launched the Black Health Equity Lab at U of T Scarborough in 2022.
"If Black women have higher rates of breast cancer, what programs or educational campaigns can we develop to address the issue? We want to use the research process to mobilize and provide solutions to these disparities that we know exist."
Massaquoi says in addition to developing a coherent research agenda, the researchers will also develop a framework for working collaboratively with Black communities and community organizations. The project will also leverage the expertise of Black researchers across U of T by co-ordinating efforts and prioritizing research objectives, while also increasing success in research funding through external grants.
The project also includes a significant training element, especially for young and emerging researchers, by offering students a chance to work on large research projects focused on Black health.
"It'll be the first time there will be a large-scale conversation between U of T researchers and the Black community on the future of Black health research. I'm really excited about the possibilities that will come from this project," says Massaquoi.
In addition to this award, the BRN is providing support to both Janelle Joseph, an assistant professor from the Faculty of Kinesiology & Physical Education, and to Brice Lionel Batomen Kuimi, an assistant professor from the Dalla Lana School of Public Health for their projects. The BRN is an Institutional Strategic Initiative launched in October 2021 to promote Black research excellence. 
The Connaught Major Research Challenge for Black Researchers is supported by the Connaught Fund – the largest internal university research funding program in Canada. Established 50 years ago through the sale of Connaught Medical Research Laboratories, the fund has since provided more than $182.3 million to U of T scholars through a range of funding programs that support the University research community across all disciplines and career stages.
Featured in this Article
Notisha Massaquoi
View Full Profile