< News
| Tuesday, November 7, 2023
UTSC undergrad De-Mario Knowles is here to make an impact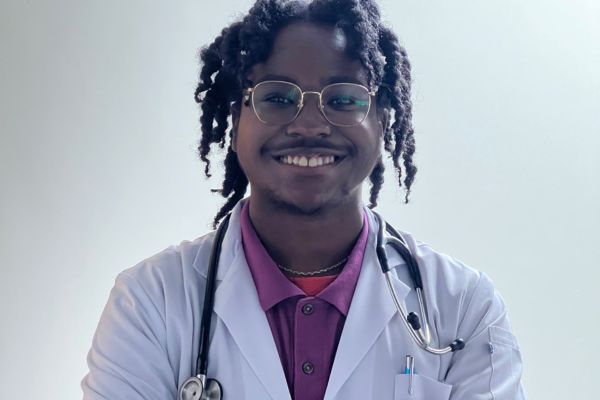 De-Mario Knowles is a second-year UTSC undergrad dedicated to mental health advocacy.
De-Mario Knowles wears many hats. Whether he is in the classroom studying neuroscience or taking pen to paper to write poetry, one thing remains the same – Knowles wants to make a positive impact. 
A second-year neuroscience and clinical psychology major at the University of Toronto Scarborough, Knowles has quickly become known for his public speaking and advocacy for mental health since high school. And he's not stopping any time soon.
"I really want to show people that it doesn't matter where you started. You can always have a smooth finish as long as you're willing to work for it," Knowles says.
BRN News spoke with Knowles about his journey so far.
You are pursuing an honours bachelor's of science in neuroscience and clinical psychology. What interested you in these fields?
I've always wanted to be a doctor since I was a little kid. I noticed a program in neuroscience at UTSC and thought it would be a good fit. A lot of my poetry and motivational speaking is about mental health advocacy. When I saw the clinical psychology program at UTSC, I thought it was a no brainer and combined the two.
Are there any research projects you are working on right now?
I've been studying cardiology under Dr. Mena Gewarges, a cardiologist at Toronto General Hospital who specializes in internal medicine. Additionally, one of the projects that I'm working on at UTSC is a project in the Authentic Learning Lab, a social psychology lab managed Dr. Kosha Bramesfeld. The project of the lab is to develop a digital learning game that allows people to learn about different historical injustices through playable marginalized characters.
I'm Indigenous, and my job in the lab is to create an Indigenous character that will go through the storyline of the game to highlight issues Indigenous communities face. The game itself will be an experiential learning opportunity for people to learn about this history.
Having an innovative avenue to educate people in a way that is engaging and applicable to the modern-day audience has been a wonderful opportunity and I feel blessed to do this work.
Aside from your studies, public speaking and poetry are also big passions of yours. You use poetry to advocate for mental health and social change. What made these two avenues a perfect way for you to make an impact?
I'm so glad you mentioned making an impact because that is something I always say to my followers. I never thought that I would be a public speaker and a poet. I first started writing poetry in January 2021. At the time, I was involved in a non-profit organization called A Teen Perspective, which is made by teens for teens. I tried writing a poem for them about mental health. I posted it on Instagram and got all these followers and messages from people.
It was a way to not only support people, but show them you don't need a big, flashy background to make an impact.
A big accomplishment is when you were recognized with the Governor General's Community Volunteer Award for your advocacy work in high school. What did it mean to you to receive that award?
In my twelfth grade of high school, I was a student trustee for the Durham District School Board. My job was to speak for all the students in that school board at board meetings. We also had a provincial organization that consisted of student trustees from other school boards across the province. We'd get together to have conversations. One of my biggest highlights was that I was able to give a speech to all the directors of education in Ontario, where I talked about an anti-oppression approach to education.
Another achievement was our partnership with Shoppers Drug Mart and the Ministry of Education in Ontario for a menstrual advocacy plan. We got 18 million menstrual products over a three-year term to be distributed for free in high school and elementary schools across the province.
With those two things and other activities like my poetry and speaking, I was lucky to receive the award.
What impact do you hope to make at UTSC?
I really want to show people that it doesn't matter where you started. You can always have a smooth finish as long as you're willing to work for it. UTSC is filled with a diverse set of people with a diverse set of skills, and I feel like I have the power to show people that if you utilize your talents, you can make an impact and do good work.