< News
| Tuesday, June 21, 2022
U of T grad leaves his mark in community leadership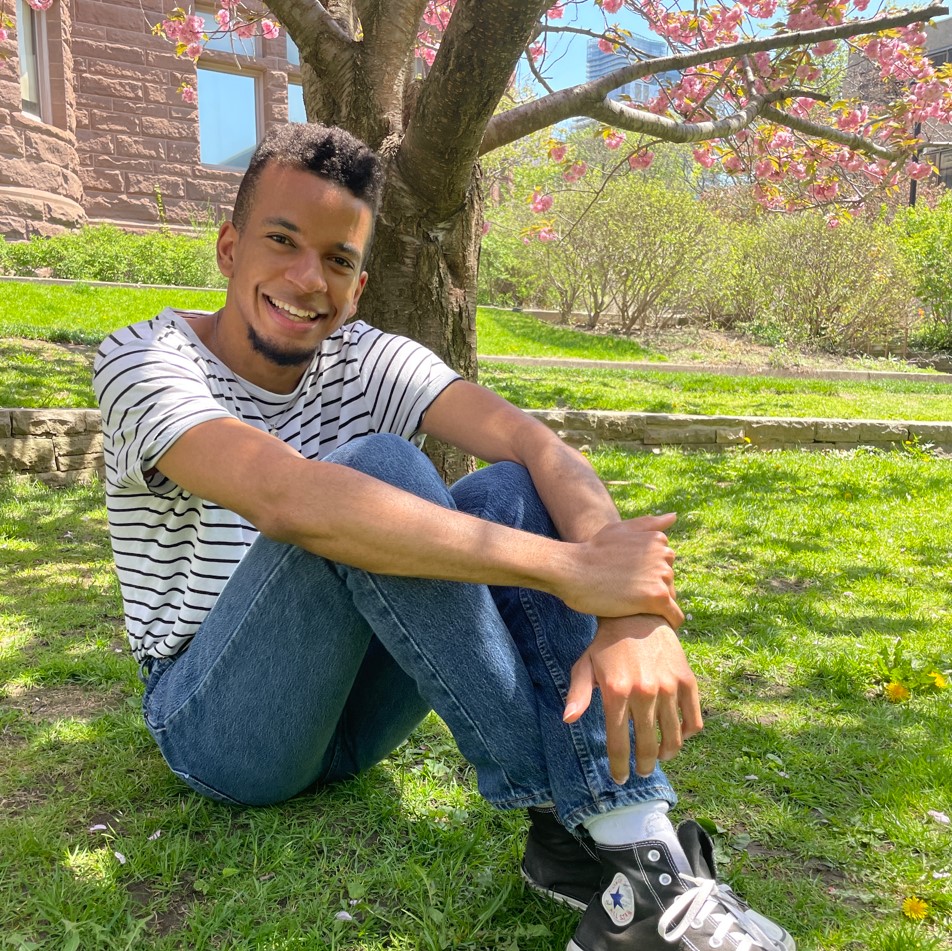 For Jonathan Blaize, community is everything. When he came to the University of Toronto as an international student from Trinidad and Tobago, he dived into extracurricular positions to enrich his student life experience – and find a sense of belonging.
"Coming to U of T as an international student, finding community was important for me. I wanted to find that, but also seek ways to give back," says Blaize, who graduates this week from University College with an honours bachelor of arts in Spanish.
With a deep commitment to community development, Blaize has made his mark at U of T as an instrumental leader in fostering supportive environments for new and incoming students, mainly as a residence don and as a campus tour guide at University College. In January, he received the University of Toronto Student Leadership Award (UTSLA), which recognizes outstanding student leadership, service and commitment to the university.
"In these roles, you become an ambassador for the university and it gives people an opportunity to see themselves in us," Blaize says.
"I like that I'm able to share with students the experiences and advice that I wish I had heard in my first year. I have always been driven to help students by being the person that I didn't have when I was coming to the university."
Blaize utilized his leadership roles to build inclusive and safe spaces for student expression and the campus' LGBTQ community. As a residence don, he organized a drag show before the pandemic hit. A year later, with the need for community stronger than ever, he brought the show online and recently held the initiative's third event on campus.
Throughout his roles, which ranged from director of social events at University College to house president, Blaize utilized his creativity to host social events that strengthened ties among residents and brought a fresh take on student life. This included fun activities like a haunted house and an escape room. He also developed programming for orientation week, including academic tips, emotional support and advice for first-year students as a head orientation leader.
A pivotal moment for Blaize came as a senior campus tour guide, where he facilitated a conversation among tour guides after attending a workshop hosted by the Anti-Racism and Cultural Diversity Office (ARCDO). There, he unpacked how campus tour guides can nurture more inclusive environments on tours. Blaize says that the moment was the first time he could truly see his impact as a leader.
"It's a moment I'm proud of because we were able to speak openly about how we can work towards a better future," Blaize says.
"I think that was the first-time people were a part of a conversation about diversity, equity and inclusion and how it has a direct role in our responsibility as campus tour guides."
Last year, Blaize received the Carman Guild Scholarship, which recognizes outstanding leadership, volunteer contributions and enthusiasm for student life at University College. Blaize also received the Gaspar Otálora Memorial Prize in Spanish. The "unexpected" honours recognized his excellence in an advanced Spanish grammar course.
Blaize, who originally pursued statistics, says that making the switch to Spanish studies was a nerve-wracking decision, especially when it came to the possibility of finding a secure job. Eventually, he followed his passion for exploring different cultures and languages.
Currently a head residence don at University College, Blaize is staying at U of T to pursue a career in student recruitment. Now a recruitment counsellor, he hopes to continue to help international students adjust to university life.
His advice for incoming international students on navigating university, and a new city, is to take chances and not underestimate yourself, from changing paths to reaching out for help. For Blaize, the key to success lies in having the right people by your side.
"Having a close-knit community on campus was pivotal for me throughout my degree."
"Your community is going to be an asset to you. Surrounding yourself with folks who can be that shoulder to cry on and will sincerely want to get to know you is crucial."