< News
| Wednesday, February 8, 2023
Meet Professor Philip Asare, Dean's Advisor on Black Inclusivity at U of T Engineering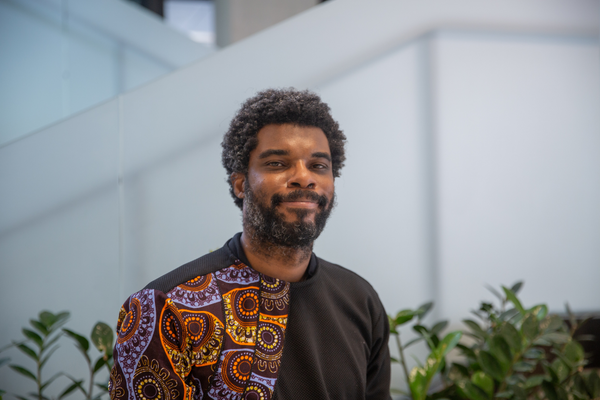 Professor Philip Asare (ISTEP, EngSci) has been appointed to the role of Dean's Advisor on Black Inclusivity at U of T Engineering. 
Professor Philip Asare (ISTEP, EngSci) has been appointed to the role of Dean's Advisor on Black Inclusivity at U of T Engineering. 
Asare has hit the ground running since joining the Faculty in 2020. He is jointly appointed by the Institute for Studies in Transdisciplinary Engineering Education and Practice (ISTEP) and the Division of Engineering Science (EngSci), where he helped redesign Praxis III, a foundational EngSci design course offered to students in their second year.
Asare also has a courtesy appointment in the Edward S. Rogers Sr. Department of Electrical & Computer Engineering (ECE), where as a member of the graduate faculty, he co-supervises graduate students.
Equity, diversity and inclusion (EDI) is baked into Asare's work. He spoke with writer Safa Jinje to discuss his new role and what he hopes to accomplish in his three-year term.
How did you first get involved with EDI work?
I grew up in Ghana, where many of the people around me essentially looked like me, so any tensions around identity were usually a result of colonialism.
EDI was not a thing for me until I came to North America. I did my undergrad in the United States at the University of Pennsylvania, and that was the first time I had to deal with the concept of being Black. 
In Philadelphia, there is a huge Black population and many communities are under-resourced. I found myself doing outreach work after one of my computer science professors connected me with a high school teacher who needed a mentor for their robotics team.
Later in my undergrad, I co-led a program run by the University focusing on high school students who were high-achieving but went to lower-resourced schools and would have been otherwise overlooked as a result. We introduced them to various engineering fields and prepared them for university admissions.
Going into grad school, I continued to be engaged in EDI work through outreach programs. As I transitioned into faculty life, I began to think about the ways I could have an impact as a professor.
At Bucknell University, I worked on many projects and initiatives focused on EDI both in teaching and project work, which led to me receiving the President's Diversity, Equity & Inclusion Award in the faculty category for "significant contributions to the University's efforts to build and nurture an inclusive campus community."
What has your U of T Engineering experience been like so far?
It has been fun in many ways. It's been nice being part of ISTEP and EngSci and getting to slowly meet the ECE community. I've had the opportunity to work with a lot of different people — students and faculty collaborators — in my short time at U of T.
I am working on many projects including one supported by the Dean's Strategic Fund that has an EDI motivation around helping students develop hands-on, prototyping skills. We are collaborating with the Myhal Fabrication Facility, which I work closely with on my courses.
We have noticed that students come in with varying backgrounds regarding those skills. And those who do not already have them never quite feel comfortable picking them up. They hide and get by, never really picking it up, especially in courses where the stakes are higher. So, we want to provide a co-curricular, lower-stakes opportunity for them to gain those important hands-on skills.
What are some of the challenges ahead for you as you embark on this new role within U of T Engineering?
U of T Engineering is a big place and there are a lot of different departments and offices that interact in various ways. I'm hoping to do something strategic that gets each office to think about what their role is in this whole work. So, there are a lot of different conversations to have. 
My goal is to make this role strategic and collaborative with other places and spaces across the Faculty to help them do their EDI work and Black-inclusive initiatives, as opposed to being the person that leads all of it.
My long-term vision is to embed EDI in the core work that we do across the Faculty — including research, teaching, the way we do admissions and support students — as opposed to it being a separate effort.
What do you hope to accomplish during your three-year term?
Getting people in is easier than keeping them and supporting them while they are here. So, one goal for me is centred on continuing to build up our faculty recruitment and retention policy. If we can have better guidelines — that are consistent across the Faculty — about the way we do searches that increases the likelihood that diverse candidates make it through, that would be great.
On the student side, we are starting to collect some data to help us better understand the structural barriers that Black engineering students are facing. That can help us start to make some inroads on policy changes that make those things not be a barrier anymore. Or at least, lessen the barrier for them so that they can enjoy their education and not just be here surviving, but be here thriving and feeling as though the space is also for them. 
Lastly, why is this role important to you?
Engineering plays a huge role in the way society works. We are everywhere. We not only design things, but we also influence policy by our designs. We shape the way people live, work, play, love and have fun. And so, limited participation of Black folk means those communities are left out in shaping the society around them. And we have seen how that has done harm to those communities.
I want to help ensure that anyone who wants to come here to be an engineer or work on engineering can do so, and that the larger Black community can benefit from that.
(Photo credit: Tyler Irving)