< News
| Thursday, September 8, 2022
'Be intentional about your goals': Abigail Ralph is paving her path in research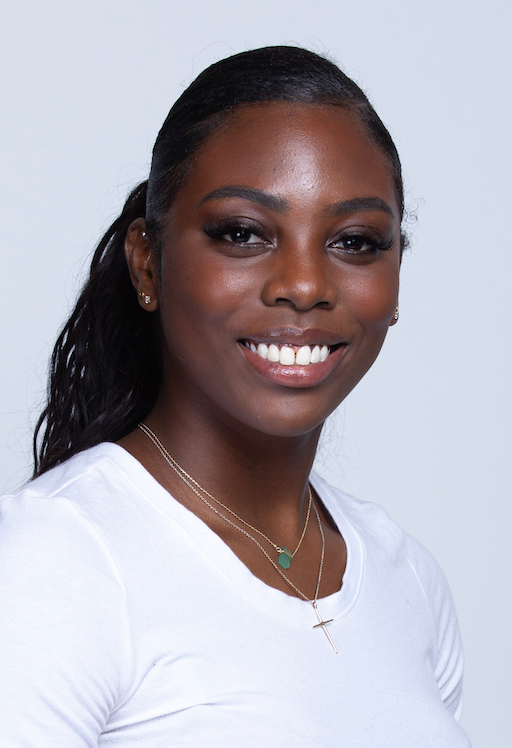 Abigail Ralph is finding her way – and making her mark – on developing research that positively impacts communities.
Ralph, a fourth-year neuroscience and health policy major at U of T Scarborough, has dived into numerous research and leadership opportunities in both fields. She recently wrapped up an internship at the KTH Royal Institute of Technology in Sweden, where she worked on new protocols for research on pluripotent stem cells.
Back home in Toronto, Ralph was one of four student co-investigators on the Vaccine Equity Project, an initiative that provided recommendations on improving pop-up vaccination clinics for racialized post-secondary students in Toronto's COVID-19 hotspots. It was supported by the 2021 U of T Student Engagement Award, which provides financial support to student projects that foster a global community in midst of the COVID-19 pandemic.
Earlier this year, Ralph was the first student to receive the Black Student Excellence Award. Developed by U of T Scarborough's department of health and society, the award recognizes students who display academic excellence and community involvement.
With her sights now on medical school, BRN News chatted with Ralph about her research and achievements so far.

What inspired you to pursue neuroscience and health policy?
For neuroscience, it really stemmed from watching someone in my family deal with a neurological condition that the doctors didn't have answers to. I remember being frustrated because at that time and that age, I assumed that doctors should have the answers but now I realize it's researchers who generate that.
Growing up in a neighbourhood that is underserved, you see a lot of inequities. Health policy was something that came to me naturally to be part of the change to help. 
The research that you have taken part in ranges from Toronto-based initiatives like the Vaccine Equity Project to studying pluripotent stem cells in Sweden for your internship. Tell us more about your work.
We noticed that Toronto's vaccine rollout was not equitable. Higher-income communities got the vaccine first, yet lower-income areas have the highest number of healthcare workers and people diagnosed with COVID-19. I was approached to take part in the project to study the impact of the vaccine rollout on post-secondary students in the Rexdale and Jane-Finch areas. It was really disheartening to see our moms, fathers and family members not have relief. As students at U of T, we had the platform to do something about it, so that's how the Vaccine Equity Project came about. 
As for Sweden, my goal coming into university was to get adequate research experience in both of my majors. I think that it's my job as a learner to seek those opportunities. I was very fortunate to get the Globalink Research Award to help me go abroad for the summer and connect with other researchers. 
In February, you received the department of health and society's first Black Student Excellence Award. Take us back to the moment you found out. What did it mean for you to be the first recipient of the award? 
I was really happy! It feels great to be recognized for the work that I've done – but it also made me realize that I have a lot more work to do to make the impact that I want. I see that U of T is making a shift to greater support Black students and it made me very proud to be the first student to get that award.
A pillar at the Black Research Network is the power of mentorship. Do you have any mentors and how have they played a role in your success so far?
I've had mentors since high school. They are the ones that guided me down the path of research and ignited my curiosity. At U of T Scarborough, Notisha Massaquoi has been an incredible mentor. She's our supervisor for the Vaccine Equity Project and has been so supportive and gives us great advice. We approached her before she even started her contract and have accomplished so much thanks to her.
What is your advice for first-year students on finding their own path and pursuing different opportunities, especially in research?
Plan out your courses, that is something that is tangible. Secondly, be intentional about your goals to make the most of your time here. Another thing is not to be too hard on yourself, especially as you're learning and growing in your first year.