< News
| Tuesday, February 7, 2023
UTM staff member set to spotlight Black brilliance in STEM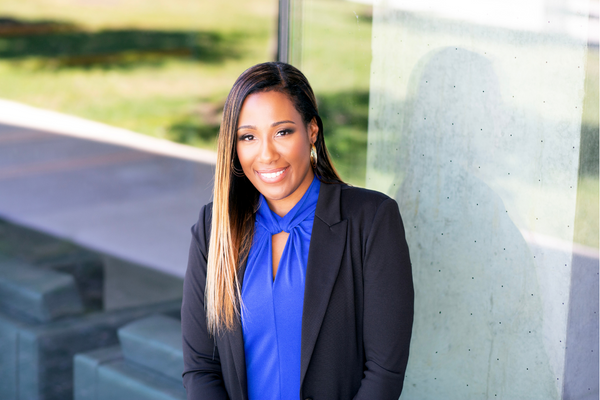 Corrine Bent-Womack wears many hats at the University of Toronto as a staff member and PhD student. Throughout her roles, her goal remains the same: to help transform the higher-education sector through an anti-racist lens.
As the first educational developer to specialize in anti-racist pedagogies at the university, Bent-Womack supports instructors in critically assessing course content and learning practices at U of T Mississauga. Now, she's utilizing her role to spotlight influential Black researchers in STEM.
The Black Brilliance in STEM project will be a living, community-driven archive of Black researchers in STEM from U of T and beyond. It will also amplify their work, while documenting the Black research excellence that has shaped STEM for the next generation of researchers.
"It is my hope that the Black Brilliance project will inspire and demonstrate to the next generation what can be achieved, even against all odds," Bent-Womack says.  
BRN News interviewed Bent-Womack about her role at UTM, her mission with the Black Brilliance project – and how U of T community members can get involved.
You have been at U of T for more than 10 years and a U of T alum yourself. Tell us about your role at U of T Mississauga as an educational developer.
As an education developer, my responsibilities are quite diverse. An important part of my role includes providing pedagogical support to UTM instructors, teaching assistants, and staff through one-on-one consultations, workshops, and assistance in course development and redesign. My role also includes assisting instructors with support in revising course syllabi, offering teaching observations, and assisting instructors and departments in the preparation of research grants, funding opportunities and other types of project proposals. Additionally, the role I play as an education developer is particularly distinct in that I specialize in anti-racist pedagogy and assist instructors in applying a critical pedagogical lens to their course content, assessments, as well as their teaching and learning practices.
I believe this type of transformative learning is well needed, especially in higher education, as it encourages instructors to critically reflect not only on their positionality but also on whose perspectives and ways of knowing are given priority in the textbooks and readings that they as instructors choose to assign and include in their courses.
In addition to your work, you are pursuing a PhD at OISE, exploring critical-race feminism, work-integrated learning and inclusive curriculum design. What are your main research goals?
Essentially, my research aims to shed light on social hierarchies and their implications for Black undergraduates' work-integrated learning (WIL) experiences in Canadian workplaces. Generally, this area of research is understudied in Canada, and there is a need for more research that speaks to the indirect and covert ways in which White ideologies and power dynamics subtly influence and shape Black women's behaviours in the workplace.
A project that the BRN is excited about is the Black Brilliance in STEM project. What inspired the idea for this initiative?
Once I stepped into my role as an education developer, specializing in anti-racist pedagogy, I began thinking about ways in which I could provide resources to faculty in areas historically known as predominately White spaces, such as STEM, with resources produced by racially diverse scholars. I felt that an online repository, housing prominent Black scientists, mathematicians, innovators, engineers and leaders in STEM, would be a great resource for instructors looking to racially diversify the content traditionally taught in their courses. I came up with the idea of the Black Brilliance in STEM project because there is a lack of representation of Black professionals in STEM fields. I felt that an accessible resource like this would not only be a great research tool for instructors but also an excellent way to motivate and inspire future and current Black students who are interested in pursuing a career path in STEM. Eventually, I envision The Black Brilliance Project expanding to include other disciplines and fields that Blacks are underrepresented in, such as economics and law.
The Black Brilliance in STEM project holds an aligned goal with the BRN in promoting Black research excellence – as well as connecting and inspiring researchers in the field. How do you hope the project makes an impact?
The Black Brilliance project aims to showcase Black talent in traditionally non-Black disciplines, such as STEM, where race disparities remain a challenge. As Black people, we face so many systemic obstacles in academic spaces, so the intent is to use this online platform to celebrate and inform the broader community about our academic successes. It is my hope that the Black Brilliance project will inspire and demonstrate to the next generation what can be achieved, even against all odds.
How can people get involved to help grow this initiative?
With the support of the BRN, my hope is that this will become a collaborative community initiative where instructors, future and current students, staff and alumni, will be inspired to expand this resource by using the BRN submission process to propose the names and bios of influential Black researchers in STEM.