< News
| Thursday, September 28, 2023
U of T alumna dedicated to creating a vibrant network for Black urban planners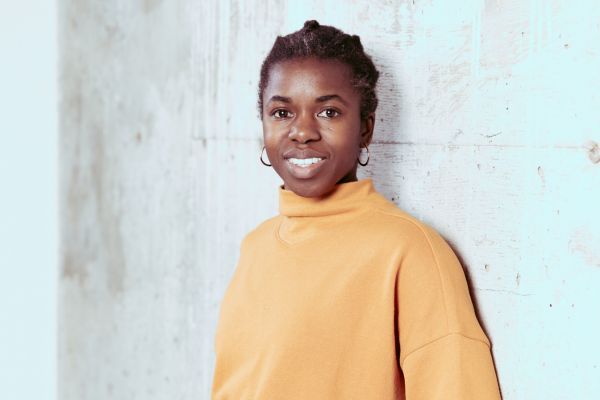 U of T alumna Abigail Moriah is creating avenues for Black urban planners – present and future – to have a network where they can connect, collaborate and make an impact in communities.
Reflecting on the lack of representation in the field during her early-career, Moriah founded the Black Planning Project (BPP) in 2018. The organization highlights the achievements of Black urban planners and works to build resilient and equitable communities through research and engagement. In 2020 she co-founded the Black Planners and Urbanists Association with a vision to increase collaboration among Black professionals working in the field to improve outcomes in Black spaces and communities.
"What I needed to do was find who else was out there who was Black, engaged in planning and what their experiences were – what inspired and motivated them," says Moriah, who graduated with a Master of Science in Planning (MScPl) in 2005.
BRN News spoke with Moriah about the BPP and creating spaces for the next generation of urban planners.
What led you to pursue a career in urban planning?
It's one of those things where the trajectory wasn't as clear. I was really involved in thinking about social change and community development. I was part of a program called Building Community Leadership Capacity in Black Communities, designed by someone who became one of my mentors, the late Franklyn Harvey, who himself was trained as a planner, worked for the City of Toronto but expanded to do more international workand strategic stakeholder engagement. My experience with this work really opened my eyes to thinking about what impacts communities and how communities can organize to influence change.
At the time, I was still living in Halifax, and observed how North End Halifax, a community with a significant Black, Indigenous, and newcomer population, fight against the city and had support from allies but not desirable results. I asked the question 'what else is at play to affect change in communities?' The experience had me questioning what shapes communities and through that, I stumbled upon urban planning, with the hope that it has tools to have a significant impact.     
You founded the Black Planning Project in 2018 to highlight the work of Black urban planners and the impact that they have on the industry. Tell me about starting it.
Working in Toronto, I wasn't encountering other Black individuals in the field, and it made me question why that was the case, particularly given the harmful legacy of planning and real estate development on Black communities (or those with significant Black populations), such as Africville and Hogan's Alley, among many others. I was conflicted between what I heard from communities and what I observed in practice. I was questioning my decision to pursue a career in planning and needed to find who else was out there who was Black, engaged in planning and what their experiences were – what inspired and motivated them. I started with interviewing folks and from this, a group a few of us began to meet, which led to the establishment of BPP, initially as a network of Black planners.
In 2020, with the mobilization that happened around Black Lives Matter stemming for the murder of George Floyd and systemic violence against Black people, I realized that there was a gap in talking about the impact of planning in Black spaces and that history. I wanted not just to only talk about the individual stories but also think about what we can learn about how policies and practices impact Black spaces and populations.
What have been some of the most impactful stories that you have come across so far?
One of the things that people talk about is that they could observe, without knowing what planning was as a child, the differentiations in geographies and what services were available, for example. Some of that is the reason that brought them into planning. Now, many of those individuals are leading large scale developments or significant planning projects. Seeing where they started and the motivation for change is inspiring. As well, the ability of Black professionals to come together and mentor younger generations makes me hopeful of how we can work to evolve and radically change planning to be more responsive to the community concerns that motivated people to come into the profession.
What's next for the Black Planning Project this year?
The BPP is co-leading the Black Experiences with Planning in Canada (BEPIC) research project, a three-year SSHRC grant. Currently in year two, BEPIC is engaging and learning from Black-led organizations in Halifax, Montréal and Toronto, working on planning matters. In addition we are also seeking to survey Black and non-Black planners who are working with Black populations to plan their communities. The goal is to develop practical Black planning tools, building on work already happening in communities, that will help to improve and shape more equitable planning outcomes in Black spaces and for Black populations.
Additionally, the BPP is making international connections of the Black diasporic experience when it comes to shaping space and planning. Late last year we were contacted by Miranda Jimmy, the former Director of Reconciliation and Social Justice at the Ontario Professional Planners Institute (OPPI) to collaboratively host a scholar from the Federal University of Bahia, Brazil. Earlier this week, Professor Gloría dos Santos Figueiredo, an architect whose work specializes in Black Urbanism arrived and we'll be learning from her and sharing experiences over the next three months. It's interesting to think outside the North American context and part of what the Black Planning Project has been doing is consulting and working with other Black-led organizations. The more we learn from each other, the more that can be applied to practical work within community planning.
The Black Planning Project does so much work in terms of research, community engagement and building a network for Black urban planners. What is your advice to the next generation of urban planners on building equitable cities?
I would suggest finding ways to become connected to others in (and outside of!) the field you can learn from and develop with. This is collaborative, not solo work, and requires engaging with others. Compared to 10 or even five years ago, many more opportunities exist now to be involved in initiatives with a focus on more equitable cities, developing new systems and processes to create the spaces we urgently need and desire, and walking alongside individuals who haven't been represented in the field.
Seek out and participate in networking opportunities that speak to your interests and passions and if you're racialized or interested in supporting this work, join the Black Planners and Urbanists Association and stay connected to the Mentorship Initiative for Indigenous, Black and Planners of Colour (MIIPOC), and many more initiatives.