< News
| Tuesday, October 24, 2023
Task shifting could help improve access to cancer care in Nigeria: PhD graduate student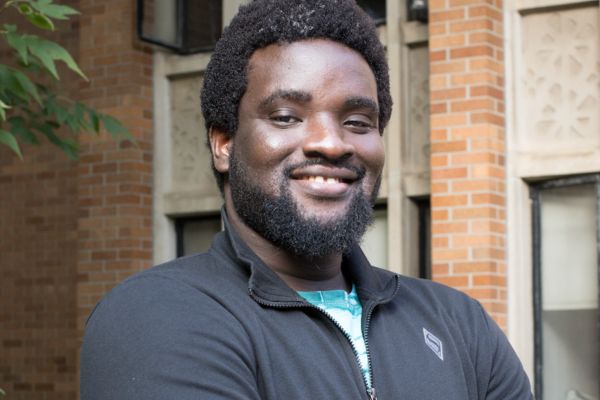 Otuto Amarauche Chukwu's research is dedicated to improving access to cancer control services in low-and middle-income countries. (Photo credit: Dewey Chang)
Cancer is the second leading cause of death in the world. Meanwhile, cancer care is overburdening health systems, especially in sub-Saharan Africa. In 2020, 70 per cent of 10 million cancer deaths globally were in low-and middle-income countries (LMICs).
A pharmacist for more than a decade, Otuto Amarauche Chukwu's research is dedicated to improving access to cancer control services in LMICs. A PhD graduate student in the University of Toronto's Institute of Health Policy, Management and Evaluation (IHPME), he was inspired to pursue this research having witnessed the difficulties people face in accessing health care services while working in his home country of Nigeria.
"What drew me to cancer research was the grim statistics of cancer survivor rates back home. In places like Canada and the U.S., 70 to 80 per cent of children diagnosed with cancer will survive. In Nigeria, that number is 20 to 30 per cent," says Chukwu, a 2023 Vanier Scholar.
"When we look at Nigeria's population, we have over 200 million people. Yet, evidence suggests that there are only 70 cancer doctors. This made me think about other ways to improve access to cancer control services."
A systematic review recently published in Research in Social and Administrative Pharmacy, co-authored by Chukwu and Beverley Essue, an associate professor at IHPME, revealed that task shifting – moving agreed tasks and responsibilities from highly-trained professionals to others – could help unburden health systems and improve access to cancer control services.
Certain stages of cancer control services such as screening, education, and diagnosis, can be shifted to non-physician health workers, like community health workers, pharmacists, and nurses. Task shifting has the potential to alleviate doctors who are overburdened and improve access to care for patients. Research evidence shows that in most countries, pharmacists are the first point of contact for minor ailments and are the most accessible health care professionals.
Most importantly, task shifting could make vital first steps in cancer detection more accessible – especially in LMICs, where late-detection is common.
Task shifting has been implemented for HIV and AIDS, high-blood pressure and diabetes care. There is currently no framework for cancer care.
"Task shifting has worked really well to alleviate the burden of HIV care," Chukwu says.
"That's why you see significant progress in reducing the burden of HIV. There are community health workers and pharmacies to help screen people. This leaves highly trained doctors to conduct specialized care for HIV or other conditions."
While task shifting can also be cost-effective, Chukwu explains that there are challenges integrating it in health systems. For success, all parties involved would have to agree to a new strategy – which includes policy considerations and if patients would feel comfortable receiving care by another professional.
Currently, Chukwu's conceptional framework and research strategy is under review. Once approved, Chukwu will conduct an assessment in hospitals across the six geo-political zones in Nigeria on the cancer control continuum to identify gaps in cancer control, and generate evidence to inform the creation of a model of care that involves pharmacists in cancer control. .
He will also explore how other countries or regions have used task shifting or similar strategies to improve access to cancer control services. European countries like Belgium and the Netherlands currently use pharmacies for various cancer control services, including, providing diagnostic services for certain cancers.
In what would be part of the final steps for his PhD research, Chukwu will interview Nigerian patients, oncologists and policy makers about how the recommendations from his research findings can be implemented.
Chukwu recently presented the conceptual framework and scholarly review of his research at the 81st World Congress of the International Pharmaceutical Federation in Brisbane, Australia.
"I hope that research which seeks to improve health systems and access to care for people that need it is prioritized, and that people see the need to fuel it so we can work collaboratively to improve lives."