< News
| Monday, March 27, 2023
New UTM dashboard to track progress of upholding Anti-Black Racism Task Force recommendations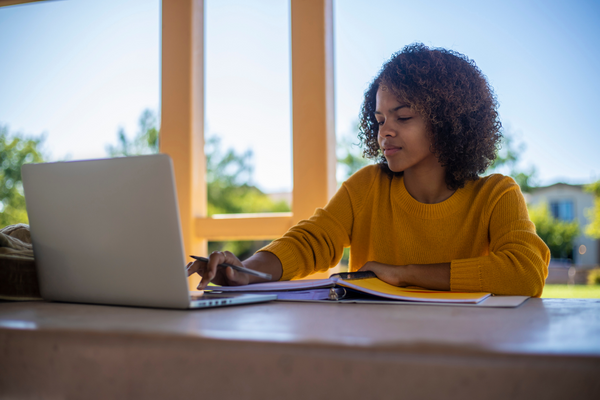 The Anti-Black Racism Dashboard and Black at University of Toronto Mississauga website were fêted with a large audience made up of students, staff, faculty, and librarians from across U of T.
The UTM website is getting a whole new addition to its suite of pages. Instead of introducing a new program, plan, or unit, this initiative is largely motivated by social justice and completely animated by a dedicated group on campus focused on ensuring more equitable representation and that UTM is unwavering in celebrating Black excellence.
These accomplishments by UTM's Anti-Black Racism Operational Group were officially commemorated in early March at the Student Centre on campus with a lively crowd and a sneak peek at the new pages, data and dashboard.
"What our group has been working on in the past year over many hours and over many months, mostly over Zoom meetings, is making sure that we have a UTM-specific response to the U of T's Anti-Black Racism Task Force recommendations," said Sonia Kang, a professor in the department of management, and one of the members of UTM's Anti-Black Racism Operational Group who was co-hosting the presentation. Additionally, Kang has served as UTM's special advisor on anti-racism and equity since 2021.
"We took all of the recommendations that were put forward, distilled them down, and made sure that we were doing the work here at UTM," said Kang.
U of T's Anti-Black Racism Task Force was established in 2020, and as part of its mandate, it examined UofT's overarching processes, policies, and practices to address anti-Black racism. It also considered whether the tools currently available have adequately and effectively equipped the university's academic community to be more equitable and inclusive. As part of their process, the Task Force implemented three working groups, each one made up of either students, faculty and librarians, or staff, to inform their recommendations for the various constituents.
Kang described how UTM's operational group considered who at UTM were most appropriate to address specific recommendations, and then undertook a series of consultations to collaborate with 33 teams across the campus, which included all academic departments and institutes, as well as most administrative units.
The operational group has since been tracking the progress of each of the tasks to ensure they are being implemented but also to identify any stumbling blocks or challenges.
Several key contributors were also recognized by Anti-Black Racism Operational Group lead Heather Hines, director of the office of the vice-president and principal at UTM. These shout-outs included Christina Gwira, senior web designer from Noya Designs, who created the look of the Black at University of Toronto Mississauga website.
"One of the recommendations that the U of T Anti-Black Racism Task Force pointed to in particular really resonated and it centred on 'space,' and making visible space available to the students," said Hines.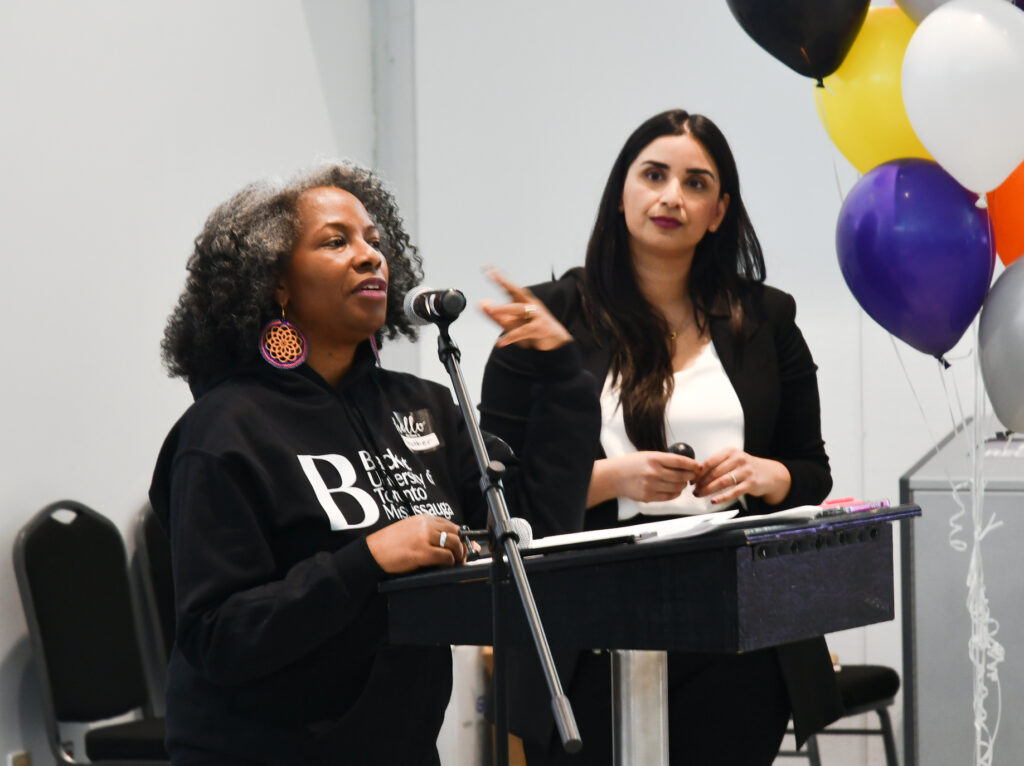 "We had many discussions about the idea of space and how we could further this concept and make it real, and so, online space, we determined, was really critical: the website is a space where we can share information and the dashboard relates to accountability of the various departments and stakeholders. Christina at Noya Designs, who has become more like family, understood our aims and created a beautiful website space for all our users."
There was a projector that displayed the dashboard, website, and a sophisticated motion design that brought the group's work to life throughout the entirety of the event.
The event was also interactive, with post-it notes and pens available throughout the space, so that participants could put forward their own suggestions and recommendations for what they would like to see UTM work towards going forward.
The celebration included trivia and giveaways with Black at UTM-branded swag, as well as food, cake, and balloons. Another highlight included spoken-word artists and UTM students Ayomide Bayowa and Joy Pius.
Along with Kang and Hines, members of the group past and present that were in attendance included Nythalah Baker, Corrine Bent-Womack, Sheri Browne, Negin Dahya, Carla DeMarco, Nicole Kaniki (UofT), and student Trishanny Rhoden. Other crucial contributors included David Fang, Martin Kengo, Mai Lu, Bianca Okine, Deborah Peart, and Entisar Yusuf.
Professor Rhonda McEwen, UTM's previous vice principal, academic and dean, was also recognized for creating UTM's Anti-Black Racism Operational Group and providing support and direction to the team from its inception.
"I want to thank UTM's operational group against anti-Black racism for your efforts," said Alexandra Gillespie, U of T vice-president and principal at UTM, who has been a stalwart supporter of the group and who joined the event via video.
"Your work has set a standard for other divisions across the university in turning anti-racist ideas into campus-specific action. And it has made a profound difference at UTM that shows how much collective accountability matters: you shared the work our teams need to do and made it possible for us to do it. UTM has the chance – and the obligation – to live up to our anti-racist commitments and to make this place a more deserving home for Black excellence and Black flourishing. I hope that the beauty and brilliance of this work will continue to create more reasons for us to celebrate together in the future."