< News
| Tuesday, September 5, 2023
New human-centred automation tools could ease stress on overburdened health-care systems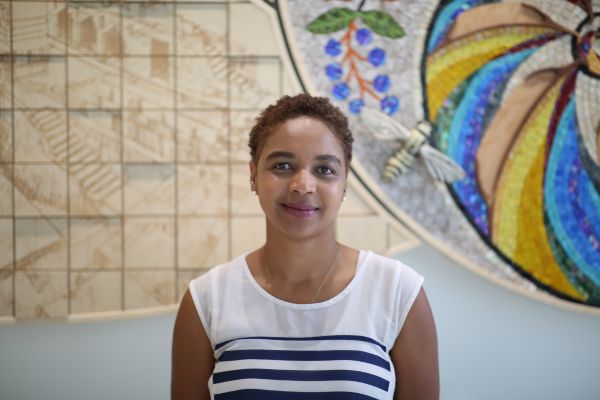 (Photo credit: Safa Jinje)
Professor Enid Montague (MIE) aims to engineer a better health-care experience and help ease the current stress on the system using an approach known as human-centered automation.
Canada faces a critical doctor shortage that has left more than six million Canadians without a primary care physician — and the after-effects of COVID-19 have only magnified the strain. But Montague notes that the burden is not shared equally.
"The challenges of having too few physicians have disproportionately affected equity-seeking groups, particularly individuals who are racialized, or come from low-income or rural environments," she says.
"We can use engineering tools to help our health-care systems do more with fewer resources — and build systems that are equity-focused, while also meeting the demands of our aging population." 
Montague's project Automation and Equity in Healthcare Laboratory is one of seven from U of T Engineering — and 35 from across the University of Toronto — being supported in the latest round of funding from the Canada Foundation for Innovation's John R. Evans Leaders Fund (CFI JELF).
Montague doesn't see her work as designing artificial intelligence (AI) tools to replace humans. Instead, it's about using AI to free up human attention for more important work, such as spending time with patients.
Her work includes designing systems that leverage AI to assist physicians with clerical tasks, leaving them more time for clinical duties. She is also building applications that use virtual agents known as chatbots to help patients seek out health care or manage their medication.
"This support from CFI means everything," says Montague. "I'll be able to have a physical laboratory where we can do human-centred participatory design. A big part of understanding how to automate is understanding human capabilities and limitations.
"I'll be able to take data from clinical settings and analyze it in the lab to look for opportunities for automation and build models that can predict the effectiveness of those automation scenarios."
Montague is also developing human-centred guidelines for automation in health care. These provide safeguards for the tools and ensure that they lead to better equity and access to care for all people seeking treatment.
Growing up in a rural part of the United States, Montague witnessed the stark reality experienced by people who live without access to health care. This motivated her at an early age to find solutions that enable equitable health care for all.
"We are already starting to see the consequences of not having enough primary care doctors in Canada, including poor diagnoses, and overcrowded emergency rooms with patients who have missed their window for early disease intervention," she says.
"While automation isn't always the answer, it can help free up resources and allow us to take full advantage of our global infrastructures.
"I want my work to help physicians avoid burn out and feel less burdened, and I also want to expand access to care for more communities in a way that is more equitable."