< News
| Tuesday, September 12, 2023
How can doctors rapidly identify patients at risk of adverse drug effects? One U of T researcher is developing a lifesaving solution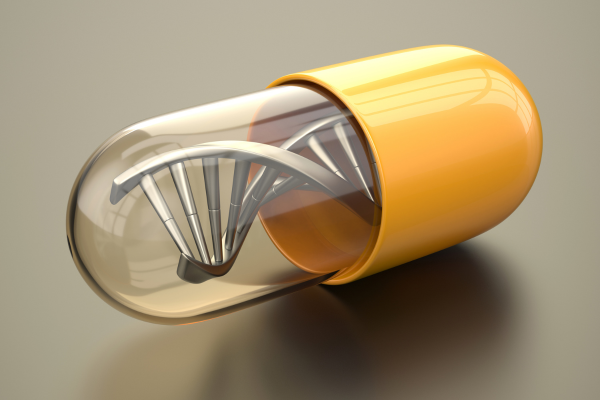 Adverse drug reactions are the fourth to sixth most common cause of death globally, according to the National Library of Medicine. Meanwhile, 60 per cent of deaths due to adverse drug effects can be avoided.
A University of Toronto researcher is working on the solution: to make personalized precision medicine possible globally.
Chukwunonso Nwabufo is the founder and CEO of OneDrug, an innovative biotechnology startup that is making healthcare smarter and more personalized by empowering doctors with technologies to individualize patient treatment, leading to improved effectiveness and reduced adverse drug reactions.
And OneDrug is leading in this particular area, Nwabufo says.
"Clinicians and other healthcare providers are not yet well equipped to cater to patient's individual needs with respect to treatment. We see this in Canada, specifically Ontario, where doctors can not routinely conduct genotype screenings for specific proteins that process drugs in the body," says Nwabufo, a PhD candidate and CIHR Scholar in pharmaceutical sciences at the Leslie Dan Faculty of Pharmacy.
"This gap in healthcare costs Canada over 13 billion annually due to serious hospitalizations and thousands of deaths resulting from adverse drug reactions. We need to break this cycle and assist our healthcare providers in making more informed treatment decisions."
Prior to joining the Leslie Dan Faculty of Pharmacy, Nwabufo worked at a Fortune 500 company, where he was involved in numerous drug development programs that were successfully commercialized for COVID-19 and HIV.
During the process, he discovered many drugs didn't pass clinical trials due to efficacy and safety issues. However, patients exhibit genetic variations in specific proteins responsible for processing drugs in the body, which determines clinical efficacy and safety profiles. This could have left drug effectiveness for some patients overlooked.
OneDrug's point-of-care devices, the size of one's palm, will help clinicians tailor a drug regimen based on a patient's genotype and phenotype for clinically important drug processing proteins.
Currently, the only way to conduct this type of test – called a pharmacogenetic test – is to send samples to a lab, which is a timely seven to 14-day wait. Additionally, there is no health coverage in Canada for this test. OneDrug's device could be used in clinics, hospitals and community pharmacies to get results within 20 minutes.
How would it work? A healthcare provider would collect a blood sample, nasal or buccal swab, or saliva. The device allows healthcare providers to see if the patient's DNA matches with validated genotypes associated with abnormal forms of protein – which put them at risk of adverse drug reactions. The device also doesn't require any expertise to operate, as many steps are automated.
"All this requires is the healthcare professional to collect the patient's sample and insert it into the device. Within 20 minutes, the results would be ready to assess," Nwabufo says.
"At this stage of science, we should be running tests routinely to see if patients have genetic liabilities that will prevent them from responding well to certain drugs."
For example, tamoxifen, a drug often prescribed to breast cancer patients, has a protein (called CYP2D6) that is key to the body's ability to metabolize the drug. Nwabufo explains that patients who have abnormal forms of the protein may not respond well to tamoxifen.
OneDrug's device would play a life-saving role in helping clinicians determine how much tamoxifen to administer or if a patient should be placed on a different type of therapy.
"This is what precision medicine is all about. It's not one-size-fits-all but is really focusing a lot on what works best for a patient based on several factors."
"We need to acknowledge that advancing precision medicine involves implementing personalized therapy at the point of care. This necessitates giving significant attention to intrinsic patient variables, such as genotype."
OneDrug is developing their devices with the help of the Heath Innovation Hub (H2i) and the Black Founders Network (BFN), a catalyst for Black-owned businesses. Nwabufo is working under the mentorship of Paul Santerre, director of H2i and professor at the Institute of Biomedical Engineering. OneDrug also has a five-year renewal partnership with the University of Toronto, which helped them offer internships for students from September 2022 to March 2023.
With the help of funding from H2i and the BFN, Nwabufo is building a web and mobile-based smart health app that will support clinicians and other healthcare providers – likely to be available at the end of the year, along with the medical device.
Right now, OneDrug is applying for funding opportunities to start clinical trials. They hope to establish strategic partnerships with U of T-affiliated hospitals to support clinical trials.
"Thinking that this could benefit individuals who have not experienced favorable outcomes from their ongoing therapies really inspires you to work around the clock and solve the problem," Nwabufo says.
"This is the key, to always think about what impact you could have on the lives of patients suffering from life threatening conditions."
Featured in this Article
Chukwunonso Nwabufo
View Full Profile