< News
| Thursday, April 28, 2022
UTM postdoc hopes to significantly contribute to clean water access in Africa and global health equity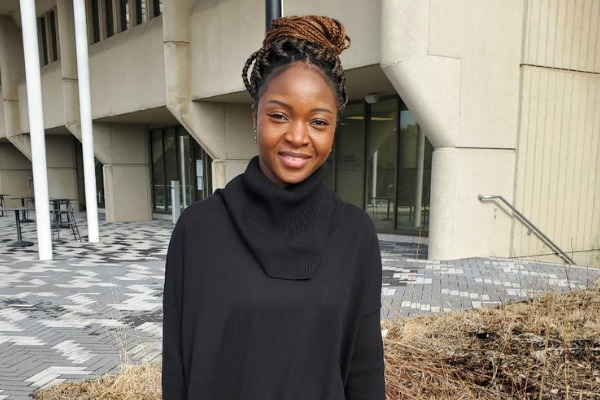 Thelma Abu wants her research to make a difference. For her, this starts with ensuring everyone has access to a human right and necessity: water.
The global health researcher – one of nine recipients of the Black Research Network's inaugural IGNITE grant – is driven by her lived experiences in her home country of Ghana to improve water access, sanitation and hygiene (WaSH) in the Horn of Africa.
"We know that our health and wellbeing are determined by the conditions in which we are born, raised, work and play, as well as age," says Abu, a postdoctoral fellow in the department of geography, mathematics and environment at the University of Toronto Mississauga.
"Global health equity is about how everyone, everywhere, can attain their full potential."
Published in the Journal of Water, Sanitation & Hygiene for Development, Abu's co-authored research article highlights the experiences of health care professionals in Kenya and the management of WaSH in health facilities. The work responded to a global call by the United Nations in 2018 to ensure that WaSH is implemented in universal health coverage, which was piloted in the country.
Abu conducted research alongside Community Health Support (COHESU) – a local NGO – in Kisumu County, located in western Kenya and one of the four counties to launch a universal health care pilot. The group found that water quality, economic resources and ecological factors were the top barriers to local health promotion efforts of three dispensaries in the country.
"These are challenges in households and healthcare facilities where infection prevention and safety is supposed to be optimum," Abu says.
"We cannot talk about water insecurity without acknowledging the intersection of climate change, health, gender, development and how they link to policy, which is shaped by social and ecological factors and processes within places."
The report highlights that healthcare dispensaries are open during typical working hours, five days a week. This leaves community members having to detour to local private health facilities or government hospitals, where malaria, respiratory diseases, and eye and ear infections are high-reported diseases – one of the outcomes of the lack of clean water on patients' health and wellbeing.
While it is the responsibility of the health ministry to provide plumbing works to health facilities, the Kisumu Water and Sewerage Company (KIWASCO) have been responsible for the county's piped water system since 2001. Health care workers construct tippy taps –equipment to ensure running water, due to limited plumbing – often with the help of non-governmental and philanthropic organizations.
Health facility managers control water availability to avoid high water costs by locking pipes. While funding shortages lead to facilities being short staffed, only one person was responsible for all cleaning measures per facility. All were factors of participants' concern about poor water quality and availability.
Abu notes that systemic and governmental change is crucial to ensure communities receive access to clean water. To secure access and availability of safe water, healthcare facilities need to be adequately funded by the government. This also means the government should prioritize access to safe water in households and healthcare facilities by providing sustainable water infrastructural options and investment in expanding the piped water system.
Meanwhile, Abu is driven to use her research to highlight injustice, push by policy change and garner support for NGOs like COHESU who work tirelessly to support communities.
"My goal is to have evidence to advocate for the necessary resources that facilities need to provide safe services to patients," Abu says.
In utilizing her work to improve community health, Abu's developing research explores how Black communities in the GTA navigated the COVID-19 pandemic. Currently in its data-collection phase, the project – which received $7,000 in support through the BRN's IGNITE grant – will fuel pathways to build resilient healthcare systems.
After talking to community members, the team will connect with local grassroots organizations that were instrumental during the pandemic. They have partnered with Peel Public Health and Trillium Health Partners, a hospital system that serves Mississauga and western Toronto.
"The pandemic exposed structural inequalities in various places and we know that Black and racialized communities were disproportionately impacted," Abu says.
"We're interested in learning from the community about their experiences and how to best shape and strengthen community resilience and inform future public health messages and care to address their needs."
Her advice for aspiring postdoctoral scholars? Find a unique spot in research and seek opportunities to build a supportive network.
"As graduate students, we should be able to incorporate research questions into our mentor's programs that are of interest to us. And in that, we create a niche for ourselves as emerging scholars," Abu says.
"It's important to build that supportive environment as we grow in our field to fall back on when we need support during our career trajectory."