< News
| Wednesday, October 5, 2022
From the CFL to U of T, Ryan Hinds switched game plans to make a difference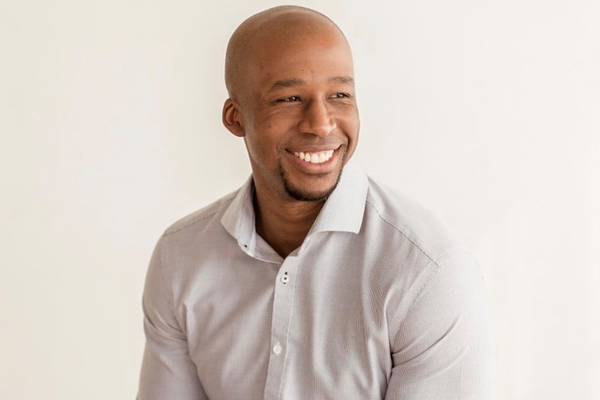 Ryan Hinds knows how to navigate different arenas – literally and figuratively. When it comes to the former, overcoming obstacles was part of his job as a Canadian Football League (CFL) athlete and 2015 Grey Cup champion.
Hinds, who moved from Guyana to Canada at the age of eight, says his time mentoring youth from underserved communities in Toronto remains one of the greatest highlights of his football career. Seeing how systems impact people's lives inspired him to shift gears to public health and health systems planning.
"I stopped and thought, I'm learning about these systems, structures and different social determinants – how do I find a place where I can change those and make a larger scale change and impact?" Hinds says.
Hinds entered a new arena when he became the Dalla Lana School of Public Health's (DLSPH) first permanent director of equity, diversity and inclusion last summer. The role was created to bring a cohesive strategy to equity-centered initiatives at the school and also advance current efforts through the Office of Equity, Diversity and Inclusion (EDIO).
The EDIO was established to ensure DLSPH faculty, staff and students can work, learn and advance their careers in a safe, transparent and accountable environment. Its mission is to ensure systems reflect principles of social justice and create positive change in public health and health systems.
To achieve this, the EDIO will operate to fulfill several commitments, each divided into different phases, to achieve DLSPH's mission. The first phase, and Hinds' current focus, has three main pillars: Recruitment, Hiring and Appointments, Student Support and Curricula Enhancement.
Under the Recruitment, Hiring and Appointments pillar, EDIO will confront and address discriminatory hiring practices and increase the visibility and diversity of students, staff and faculty. The next pillar, Student Support, will improve responsive mental health supports for Black and Indigenous students, and other identities. Meanwhile, Curricula Enhancement will address any gaps in current offerings and ensure graduates are prepared to safely and compassionately work with diverse communities in the field.
With several years of experience in the design and implementation of youth-focused social impact programs – and utilizing his platform for community engagement – one of Hinds' priorities for the near future is centered around facilitating meaningful interactions with the DLSPH staff, students and faculty.
"Shifting the experience that students, faculty and staff have to ensure that the school has a better outreach and better imprint on community are some of the changes that I want to make in the next two years," Hinds says.
"Seeing how important it is for community to be at the forefront of change and how the school relates to community is critical." 
Changing game plans 
Hinds' return to DLSPH can be considered a comeback.
Prior to his current role, Hinds received a master of health science in health administration at DLSPH's Institute for Health Policy, Management and Evaluation (IHPME). He leads the DLSPH's Outreach and Access Program, an initiative to encourage youth from underrepresented communities to pursue careers in public health.
Before joining U of T, Hinds was the community engagement lead at Toronto Central Local Health Integration Network and served as the organization's lead for health equity and Indigenous engagement. He is also the co-founder of GTA Youth Athletics, a non-profit organization that helped youth develop leadership skills through athletics.
Hinds says that research can play a vital role in driving systemic change – and that's where initiatives like the Black Research Network can help identify gaps in the system or various fields to achieve inclusive excellence.
"When we speak about why we're making certain changes, we want to make sure that those are rooted in research and in the new knowledge that will come out of collaboratives and initiatives like the Black Research Network."
With sights on continuing to establish meaningful relationships to achieve the EDIO's goals, Hinds hopes to make DLSPH an example and leader for institutional change.
"I hope that we become a source of excellence that folks can connect to for how we've made certain pieces of change and how we've changed systems and processes and structures within our school."