< News
| Tuesday, September 27, 2022
From behind the mic: Why Alexandra Lambropoulos is telling the stories of urban innovation in Africa and beyond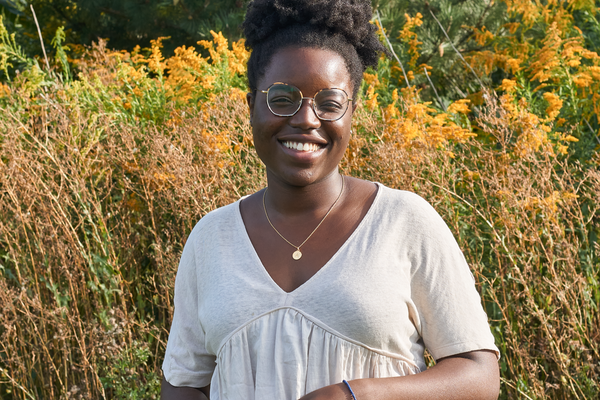 When Alexandra Lambropoulos conducts research, she also seeks out the stories behind it.
Lambropoulos, a master's student pursuing urban planning at the University of Toronto, picked up the idea during her first trip to the Democratic Republic of Congo to see her family a few years ago. There, she was inspired by the urban developments and creativity in her family's hometown to further pursue urban planning.
"I was amazed to see the city and all these creative interventions being done by people to make their communities better in any way possible," Lambropoulos says.
From there, she did some digging on different aspects of urban planning, finding groups, organizations and case studies in Africa dedicated to urban growth, art and sustainability across various countries. When she came back to Toronto, Lambropoulos was shocked that Africa was not a focus of study in her undergraduate courses, while other parts of the world were.
The solution? Lambropoulos decided to tell these stories herself.
Enter Urban Limitrophe, a podcast dedicated to researchers and community leaders driving projects that are transforming cities across Africa and the diaspora. Launched at the height of the pandemic, the podcast is nearing almost 20 episodes, with countless urban planning innovations – including initiatives in education, the arts and climate change – in cities across countries like Ghana and Kenya to Peru and France.
Urban Limitrophe is co-sponsored by the department of geography and planning and the School of Cities, an Institutional Strategic Initiative (ISI) at U of T dedicated to building resilient and inclusive urban spaces.
For Lambropoulos, the podcast is a unique way to mobilize knowledge about urban planning in Africa, for a Canadian audience, while securing its presence in academia.
Conversations with guests on Urban Limitrophe have even informed her research at U of T. Lambropoulos, whose research focuses on the intersection of culture, community economic development, arts and urban planning, has featured initiatives like Surf Ghana, a non-profit organization building skateparks in Accra, as well as Justice Defenders, an organization providing equitable access to justice across Africa. The project also includes CLUSTER, a non-profit in Cairo, Egypt whose work analyzes urban informality in the city, and The Abibiman Project's efforts to celebrate African cuisine and tackle food insecurity in Toronto.
"The podcast has really shaped my approach with the way that I conduct research. It's allowed me to take a different lens and look for the stories that are not being told," Lambropoulos says.
As a project officer at the Infrastructure Institute at the School of Cities, Lambropoulos and a team of researchers examined the role of exhibitions to promote urban-related topics, focusing on mixed-use buildings to support community resilience. The project is part of the Creative Mixed-Use Initiative at the School of Cities, which has propelled partnerships to build mixed-use projects since 2019.
Mixed-use buildings are seen in city infrastructure, such as adding restaurants or other services to residences – and often facilitate partnerships between private, public and non-profit organizations to nurture deep community ties and vibrant neighbourhoods.
In July, the group launched its first exhibit, called +(Plus), at the World Urban Pavilion in Regent Park. The virtual and in-person exhibition traced the history of mixed-use buildings in Toronto, using examples like the North Toronto Collegiate Institute / Republic, a four-storey high school with two condominium towers situated above it. They also reimagined what the future of mixed-use buildings could look like in Toronto – such as adding housing above fire stations.
Earlier this year, Lambropoulos was one of several student recipients of The Geography & Planning Award for Black students. Given by the department of geography and planning, the award recognizes outstanding academic and professional achievements within the department and recipients' work to eliminate anti-Black racism and advance systemic change within the university and the field.
"It was so great to be recognized. I appreciate the support that comes from the Black Research Network and my department to help me fulfill this dream to work in this sector," Lambropoulos says.
"Sometimes things like this are a reminder that you're on the right path."
With her sights set on completing her degree, Lambropoulos will continue to work at the Infrastructure Institute to help curate more exhibitions. As for the podcast, Lambropoulos has received invitations to visit cities across Africa from people she's interviewed – and hopes to travel and bring the podcast to them one day.