< News
| Wednesday, March 8, 2023
Beverley Essue receives Connaught Community Research Partnership Award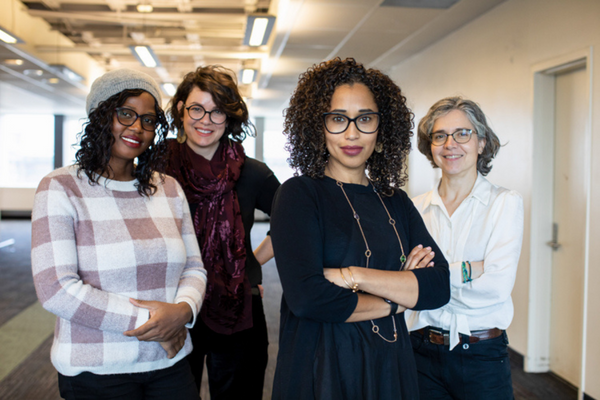 (Left to right) Cyndirela Chadambuka, Amaya Perez-Brumer, Beverley Essue and Clara Juando-Prats (photo by Johnny Guatto)
Beverley Essue of the Institute of Health Policy, Management and Evaluation in the Dalla Lana School of Public Health has received an award from the Connaught Community Partnership Research Program for a research project on prioritizing the access needs of racialized women who experience intimate partner violence (IPV).
Essue will use the award to support a partnership with the Dr. Borna Meisami Commemorative Foundation' Restoring Smiles Initiative to address a gap in access to critical dental care that disproportionately affects racialized survivors of IPV. This research will back advocacy and program development and will prioritize equitable access to necessary and culturally appropriate dental care services.
"This Connaught grant is meaningful because it supports a community-led research partnership that will help to fill this gap and it stands to help support the pathways to economic independence and empowerment for racialized survivors," Essue says."The data from this project will support efforts to ensure that the perspectives and lived experiences of racialized IPV survivors can inform the implementation of the national dental care program in Canada."
The Connaught Community Partnerships Research Program encourages collaborative research partnerships that will foster access to each other's unique knowledge, expertise and capabilities on issues of shared interest. It is intended that the partnerships supported by this program will strengthen over time.
Essue is one of four researchers at the University of Toronto to receive the award this year. The others are Andrea Charise of the University of Toronto Scarborough, Angela Mashford-Pringle of the Dalla Lana School of Public Health and Pedro Mateo Pedro of the Faculty of Arts & Science.
This story originally appeared on U of T Celebrates.
(Photo credit: Johnny Guatto)