Call for Abstracts – The 2023 CrimSL Graduate Student Conference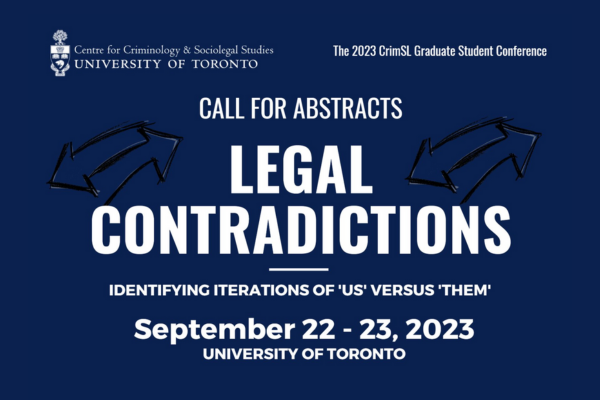 The Centre for Criminology and Sociolegal Studies, at the University of Toronto, invites graduate students from across the country to attend the 2023 Graduate Student Conference on September 22-23, 2023.
This year's theme is Legal Contradictions: Identifying Iterations of Us versus Them. The purpose of the conference is to shed a unique light on the letter of the law, engage in conversations about coercive powers of exclusion, and consider the tensions and conflicting messages that exist within our adversarial criminal justice system. 
The conference is meant to provide attendees with new analytical insights on the contradictions inherent and implied, in both formal and informal laws and customs, as understood from criminological, legal, and sociolegal perspectives. The theme is also centered on the disparate impact that legal, pseudo-legal, and informal practices have on racial, ethnic, and political groups, and which ultimately create 'us versus them' dichotomies.
Submission Guidelines:
Please submit an abstract of 200 to 250 words using this link.
Submissions from criminology, sociolegal studies, sociology, law, psychology, history, science and technology studies, anthropology, public policy, and related disciplines are welcome.
Submission Deadline:
Tuesday, August 8, 2023 at 11:59 p.m.
Date By Which the Committee Will Confirm the Receipt and Acceptance of Submissions:
Monday, August 28, 2023 at 11:59 p.m.