Monday Night Seminar: Eric A. Stanley – The Centre for Culture and Technology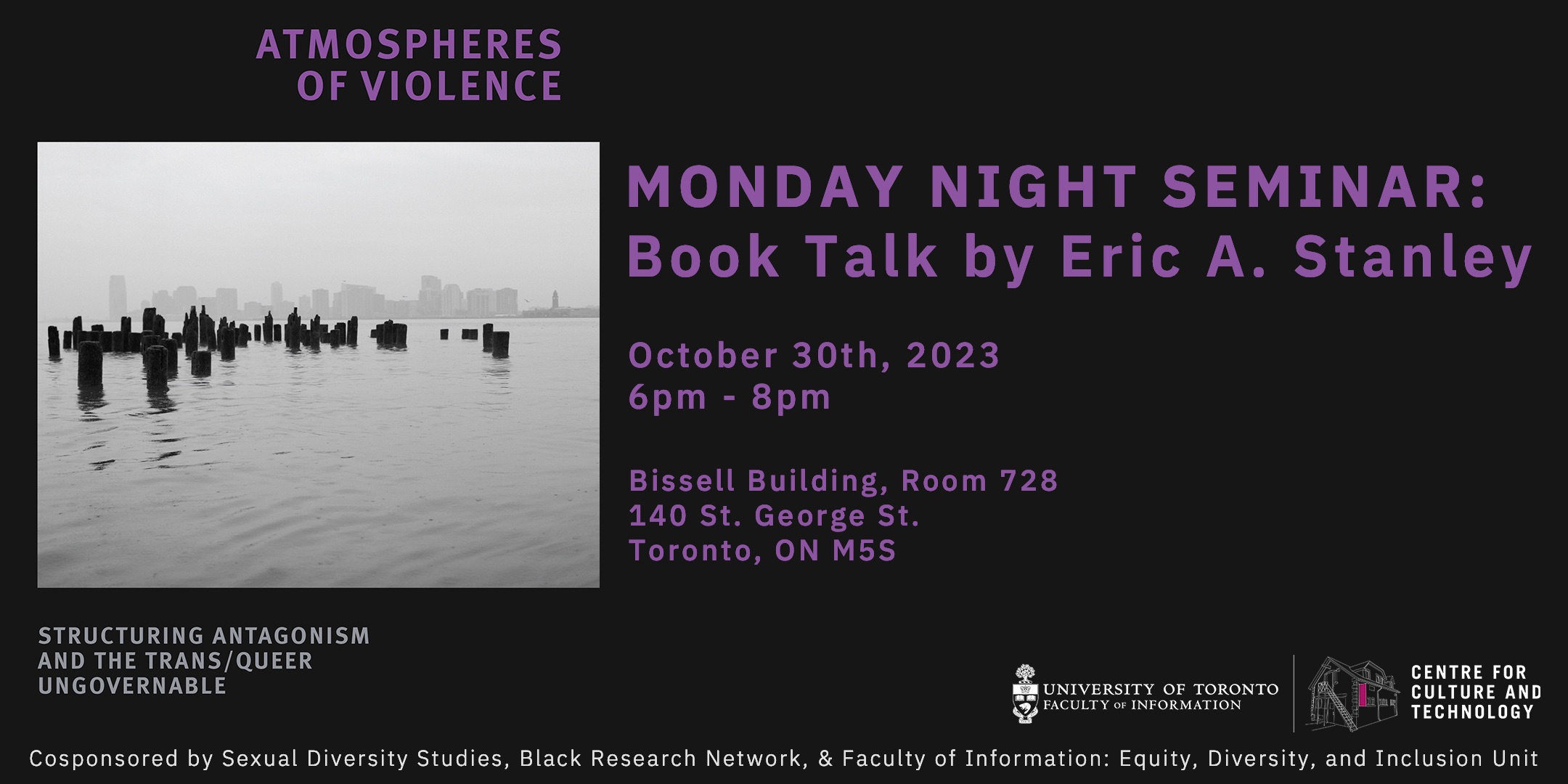 As part of our Monday Night Seminar series, the Centre for Culture and Technology is delighted to welcome Eric A. Stanley for a talk on their book Atmospheres of Violence: Structuring Antagonism and the Trans/Queer Ungovernable (Duke University Press, 2021).
Please note: This event will be held at the Claude T. Bissell Building, Room 728. This building is not currently barrier-free; the entrance is up a flight of stairs from St. George Street.
About the book:
Advances in LGBTQ rights in the recent past—marriage equality, the repeal of Don't Ask, Don't Tell, and the expansion of hate crimes legislation—have been accompanied by a rise in attacks against trans, queer and/or gender-nonconforming people of color. In Atmospheres of Violence, theorist and organizer Eric A. Stanley shows how this seeming contradiction reveals the central role of racialized and gendered violence in the United States. Rather than suggesting that such violence is evidence of individual phobias, Stanley shows how it is a structuring antagonism in our social world. Drawing on an archive of suicide notes, AIDS activist histories, surveillance tapes, and prison interviews, they offer a theory of anti-trans/queer violence in which inclusion and recognition are forms of harm rather than remedies to it. In calling for trans/queer organizing and worldmaking beyond these forms, Stanley points to abolitionist ways of life that might offer livable futures.
About the speaker:
Eric A. Stanley is an associate professor in the Department of Gender and Women's Studies at the University of California, Berkeley.
They are the author of Atmospheres of Violence Structuring Antagonism and the Trans/Queer Ungovernable (Duke University Press, 2021). In collaboration with Chris Vargas, they directed the films Homotopia (2006) and Criminal Queers (2019). Eric is also an editor, along with Tourmaline and Johanna Burton, of Trap Door: Trans Cultural Production and the Politics of Visibility (MIT Press 2017) and with Nat Smith, Captive Genders: Trans Embodiment and the Prison Industrial Complex (AK Press, 2015/11).
This event is co-sponsored by the Black Research Network.