Mobility Network presents 'The Way Forward: Considering access, ethics and practice of data in mobility policies'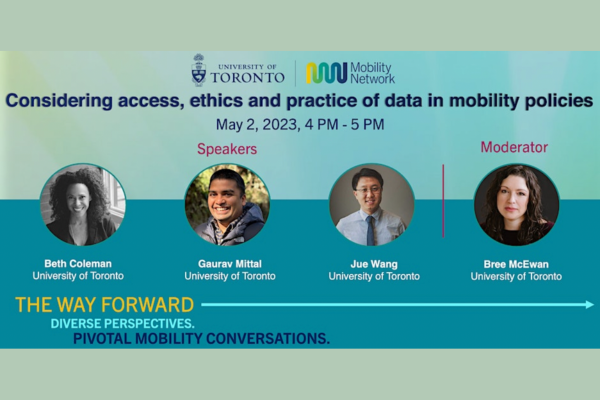 Data plays a significant role in mobility policies and planning, especially in forecasting, policy evaluations, and assessments.
Planners, administrators, and academics acknowledge the importance of accurate data for efficient mobility policies. The surge in the collection and use of data over the last decade raises questions over its access, ethics, and practice.
How are governments working toward effective, ethical data collection and access?
Speakers
Beth Coleman is Associate Professor of Data & Cities at the Institute of Communication, Culture, Information and Technology at UTM and the Faculty of Information, where she directs the City as Platform lab. Working in the disciplines of Science and Technology Studies and Critical Race Theory, her research focuses on smart technology & machine learning, urban data, and civic engagement.
Gaurav Mittal is a UTM Mobility Network Postdoctoral Fellow at the Institute for Management & Innovation, University of Toronto Mississauga. His academic interests include urban governance, public transport, political economy, and southern theory. His current research focuses on regulation of micromobility interventions and political economy of low-carbon transitions in informal transport.
Jue Wang is an assistant professor in Geography, Geomatics and Environment at UTM. Jue's research interests include human mobility, health geography, and environmental health, GIScience, big data, and spatial analysis. His recent research has included exploration of methodological issues in environmental health studies and the development of a unified analytical framework for individual exposure assessment.
Moderator
Bree McEwan is an Associate Professor in the Institute for Communication, Culture, and Information Technology at the University of Toronto Mississauga with a graduate appointment in the Department of Sociology. She is also an Associate Director of the Data Sciences Institute and leads the UTM thematic programming on "Responsible Data Science."
Register to attend this free event.