BRN Speaker Series: A conversation with Caroline Hossein & Ebun Joseph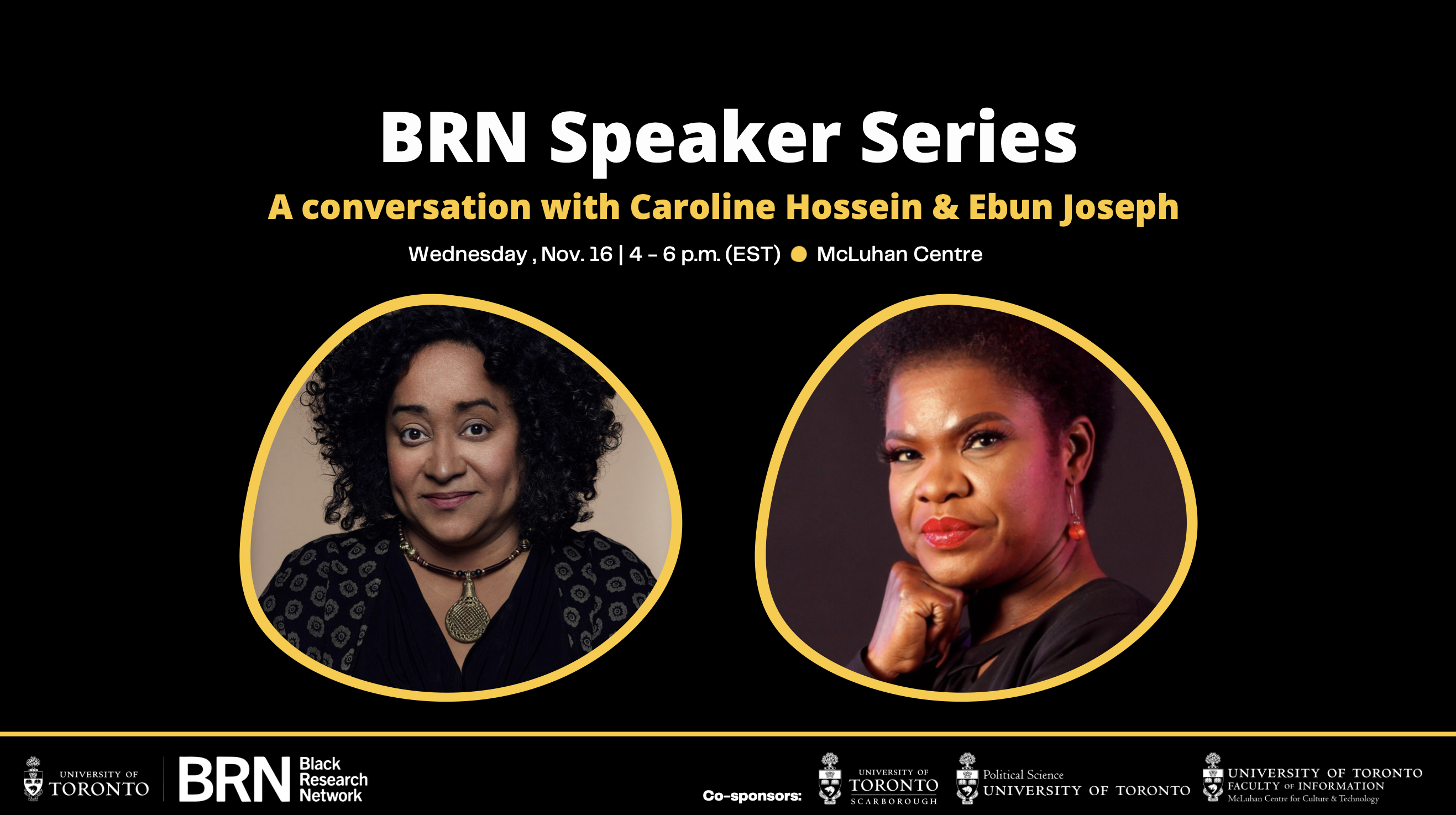 The Black Research Network's Speaker Series invites the greatest minds from the University of Toronto and beyond to engage in meaningful conversations and inquiries about their recent work and careers.
Topic: The Advancement of Rotating Savings and Credit Associations (ROSCAs) for Sustainable Economic Livelihoods
Join U of T Scarborough's Caroline Shenaz Hossein and Ebun Joseph, a lecturer of University College Dublin, for a conversation about the history of feminist political economies in Canada and beyond.
Africana women engage in solidarity economies through a specific form of mutual aid – formally referred to as Rotating Savings and Credit Associations (ROSCAs) – to meet their livelihood needs. These women call themselves the Banker Ladies, and the ROSCAs they run are rooted in equity, mutual aid and self-help.
This conversation will draw on empirical work that involves interviews with hundreds of Black women in five Caribbean countries, Toronto and Montreal, as well as field work in Ghana, Ethiopia and Nigeria.
Co-sponsored by the McLuhan Centre, U of T Scarborough and the department of political science at the University of Toronto, this event will take place in-person and via live broadcast.
This event will host 20 people in-person and have a live broadcast for an online audience.
About the speakers:
Caroline Shenaz Hossein is a Canada Research Chair of Africana Development & Feminist Political Economy and an associate professor in the department of global development studies at U of T Scarborough, cross-appointed to the graduate program of Political Science at the University of Toronto. Hossein's research navigates solidarity economies – a movement that started in the Global South – which prioritizes social profitability instead of financial gain. In 2017, Hossein founded the Diverse Solidarity Economies (DiSE) Collective to advocate for culturally diverse community economies.
Ebun Joseph is a diversity and race relations consultant, module coordinator and lecturer of Black Studies at University College Dublin (UCD). With a research focus and several works on labour markets and race relations, her recent book, Racial stratification in Ireland: A Critical race theory of labour market inequality, was published in 2020 by Manchester University Press. Joseph is also an author, TV panelist, columnist and an equality activist.
Register to join the live stream.
Register to attend in-person.
Resources
Missed the event or simply want to revisit what was said? Take a look at these resources: 
Watch this BRN Speaker Series event on YouTube.