Annotations: On W.E.B. Du Bois, Asia, and Japan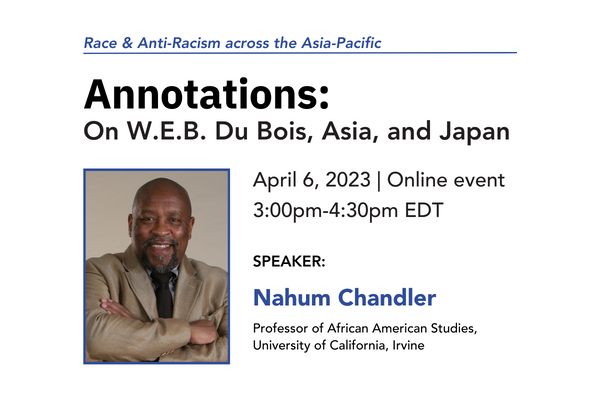 On April 6, join the Munk School of Global Affairs and Public Policy for the talk, Annotations: On W.E.B. Du Bois, Asia, and Japan.
Many have referred to an unfolding "Asian Century." Yet, the place of historical difference, sometimes the problem of "race," in the making of Asia, with Japan as a key example, has not acquired consideration commensurate with its implication. Matters African American as in the historical vision of W. E. B. Du Bois, namely his sense of a modern global "problem of the color line" may be of assistance. Asia, to take Japan as a complex example, was for Du Bois an utterly persuasive historical example; yet, two continuing twin privileges—the idea of the utterly singular exemplar of the human, or natality, and the persistent retention of the idea of sovereignty as also rooted in a singular exemplar (e.g. the monarch, the ethnic group, the party)—together articulate the fundamental contemporary conundrum of modern collective inhabitation. A strong sense of the African American example and the conception that lead to Du Bois's acute recognition of this problematic before its cataclysmic eruption during the Second World War and ongoing aftermath may be useful for a world-wide community of and thinkers and practitioners within the present recrudescence that has reimagined Asia, including Japan, on a global scale.
Speaker Bio:
Nahum Dimitri Chandler serves as a professor in the School of Humanities at the University of California, Irvine. His teaching and research are in the fields of African American studies, literature, philosophy, and modern intellectual history. He is the author of X: The Problem of the Negro as a Problem for Thought (2014), as well as the editor of W. E. B. Du Bois, The Problem of the Color Line at the Turn of the Twentieth Century: The Essential Early Essays (2015), both from Fordham University Press. An enlarged edition of his 2013 book Toward an African Future – Of the Limit of World was issued in July 2021 by SUNY Press. His study "Beyond This Narrow Now:" Or, Delimitations, of W. E. B. Du Bois was released in February 2022 by Duke University Press. Also, forthcoming in the May of 2023 from Duke Press is Annotations: On the Early Thought of W. E. B. Du Bois.He is Associate Editor of the journal CR: The New Centennial Review; as well, he has served since its founding on the editorial team of The A-Line: A Journal of Progressive Thought.
Sponsor: Dr. David Chu Program in Asia-Pacific Studies  
Co-Sponsor: Black Research Network, University of Toronto