2023 Edwards Memorial Lecture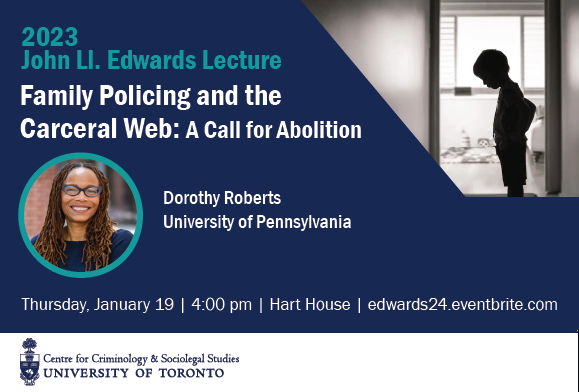 On Jan. 19, the Centre for Criminology & Sociolegal Studies at the University of Toronto will host the 24th Annual Edwards Memorial Lecture.
Titled, Family Policing and the Carceral Web: A Call for Abolition, this lecture will be delivered by Professor Dorothy Roberts, a George A. Weiss University Professor of Law & Sociology at the University of Pennsylvania. In Torn Apart: How the Child Welfare System Destroys Black Families—and How Abolition Can Build a Safer World, acclaimed legal and social science scholar Dorothy Roberts draws on decades of research and activism to expose the foundational racism of the child welfare system.
This is a free, in-person lecture but registration is required.